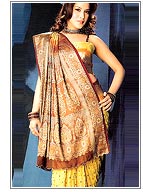 Traditional Indian sarees
have always been the fine examples of great workmanship of handloom weavers. It doesn't matter whether these weavers belong to north, south, east or west parts of India, they make fabulous saree designs with the help of fabric and other raw materials found in their respective regions. This is perhaps the reason why most of the handloom sarees are named after the place of their origin- the place where they are traditionally made. However, there are many other types of handloom sari that are not woven but then also they fall in this category due to the expert work of hands in their making such as
bandhani sarees
that are made with the help of tie and die technique. Here is an account of the most famous handloom sarees of India. These sarees are basically hand woven sarees.
A Banarasi sari- the most popular among the
sarees of north India
- is the most traditional bridal dress for any Indian bride. They are made in the holy city of Benaras in Uttar Pradesh. A Banarasi sari is made of finely woven silk and are decorated with intricate designs which make them relatively heavy when compared to other handloom saris. Mostly gold and sometimes silver brocade work on the fine
silk sarees
with lavish embroidery make them an ethnic wear. The Mughal inspired saree designs include intricate intertwining floral and foliate motifs. Upright leaves called jhallar at the outer, edge of border is an important characteristic of these sarees.
Chanderi is a historical town of Madhya Pradesh state in India. It is a renowned center for the famous hand-woven Chanderi sarees. The light weight Chanderi sari has a sheer texture and glossy transparency. These
cotton sarees
are best as summer wear. Motifs woven on them are mostly inspired from nature like birds, trees, fruits, flowers and heavenly bodies.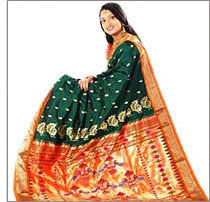 The hand woven
sarees of west India
(Paithan town in Aurangabad district of Maharashtra state) are known as Paithani sarees. They are made from very fine silk. The unique feature of these sarees are the borders having an oblique square design, and a pallu with a peacock design. Sometimes plain as well as spotted designs are also made on these sarees. Many varieties of Paithani sarees are popular which include from single colored to multi colored designs. The multicolored Paithani sarees are made by using one color thread for weaving lengthwise and another for weaving widthwise.
Patola sarees are made in the Patan District of Gujarat state. The patola saree is one of the finest hand-woven sarees that are made in India today. The extremely delicate patterns of Patola saree are woven with great precision and clarity. The symmetrical designs having geomatrical orientation sometimes take about 4 to 6 months to be completed.
The most famous
sarees of south India
, the Kanjeevaram sarees are made in the temple town Kanchipuram of Tamil Nadu. This town is also known as 'Silk City' due to its main profession of weaving silk sarees. The traditional kanjivaram sarees have a richly worked upon pallu and border in golden thread with lighter designs in the inner body of the saree. The matching
blouse
woven in the same manner as the saree is, gives this saree a royal look.
Gadwal is a city in Mahbubnagar district of Andhra Pradesh. The handloom jari sarees made here are famous world wide as Gadwal sarees. These sarees are liked for their attractive cotton field with heavy silk border and pallu. Both the fabrics are joined in a complicated way but this silk/cotton mix gives this sari its charm.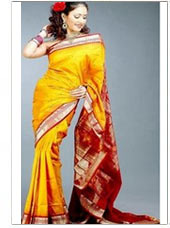 Mysore, the second-largest city of Karnataka is famous for its Mysore silk saree. In fact, Mysore Silk is a trademark for the silk sarees manufactured by Karnataka Silk Industries Corporation (KSIC). The unique characteristic of this saree is the usage of pure silk and hundred percent pure gold zari, which is a golden color thread having 65% of silver and 0.65% of gold. These sarees are manufactured on the modern looms in a silk factory located in Mysore city. Every Mysore silk saree has an embroidered code number and a hologram to prevent its misuse. Innovations are being done in these sarees by introducing kasuti embroidery, thickly woven pallus, bandhini techniques and non traditional colors in the sarees.
Yet another great hand woven saree from South India is the Chettinad sari manufactured in the Chettinad region of the Sivaganga district of Tamil Nadu state. It is a cotton sari which has unique dramatic and spontaneous colored patterns with bold checks, stripes and contrasting hues.
One of the finest handloom sarees of Bangladesh which is also made in West Bengal- the Jamdani sarees have colored stripes and patterns. Jamdani is a woven fabric in cotton, and it is one of the finest varieties of muslin. It is traditionally woven around Dhaka region of Bangladesh and created on the loom brocade with rich motifs. Not only sarees, Jamdani is also used for scarves and handkerchiefs. The patterns are mostly geometric, plant, and floral designs.
There are many
sarees of east India
and Sambalpuri sarees are one of the most famous among them. They are made in the Sambalpur and Dakhin Kosal region of Western Orissa. They are typical Ikkat sarees wherein the warp and the weft are tie-dyed before weaving. Sambalpuri sarees are famous for their traditional motifs, like shankha (shell), chakra (wheel), phulla (flower) etc. However, the art of focus here is the traditional craftsmanship of the 'Bandhakala', the tie-dye art represented in their intricate weaves. There are many varieties of Sambalpuri sari that include Sonepuri, Pasapali,
Bomkai
, Barpali, and Bapta saris.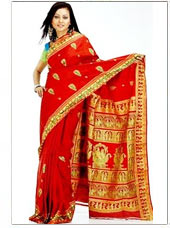 The Baluchari sarees are are made in the town of Baluchar in Murshidabad district. They have a silk base with silk brocaded designs. The color scheme of these sarees are unique in the sense that each pattern is made in a color which is in harmony with the ground of the saree. The most popular colors used are red, blue, yellow, green and scarlet. These sarees mostly have large floral motifs interspersed with flowering shrubs. Baluchari sarees are also made in the Bankura District of West Bengal. Here the tussar silk is used for making these sarees. They have unique designs on them that are woven on unusual punch-card looms. These designs include episodes from the Mahabharata woven into the border and pallu.
The sarees of north east region of India, mainly of Assam, are made from three different types of silk- Muga, Eri and Pat silk. They are collectively known as Assam silk. Muga sarees are made from Muga silk which has a typical golden hue. Traditionally, these silks were used to make the traditional dress of Assam called riha and mekhela chador- the three-piece silk saris woven with traditional motifs.
Kota doria sarees are made in Kota district of Rajasthan state. These sarees are made of pure cotton and Silk fabric. Although, these sarees are famous by the name of kota sarees, they were originally woven in Mysore and were known as Masuria sarees. The weavers from Mysore were taken to Kota in the late 17th and early 18th century and these saris started to be known as 'Kota-Masuria'. Kota sarees are popularly known as 'Masuria' in Kota and Kota doria outside the state. These sarees give the looks that is similar to fine net. It seems that the threads or 'doria' are woven at right angles to make a net like structure.