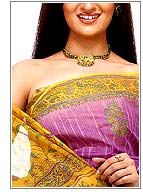 Kota sarees for women are one of the most well-known elegant sarees of Northern India. Also known as Kota Doria Saris, these sarees are named after being produced in a small town called Kota in Rajasthan. These sarees are ideal for Indian summers.
Fabric in Kota Sarees
Kota sarees are made of Kota fabric, which was referred as Masuria Malmal earlier as they were woven in Mysore. Later, the weavers were brought to Kota in Rajasthan, and the saris were woven by the name of "Kota-Masuria" or "Kota Doria" where doria is the thread used and kota fabric is a combination of cotton and silk fabric. This kind of fabric has a super transparent yet stable weave of cotton and silk threads, that produce square check patterns in fabric. These checks are popularly known as "KHAT". Handloom Kota Doria sarees in pure cotton are one of the most sought after items for Indian women during summers. Nowadays, Kota saris in polyester fabric is also gaining popularity. There are also many varieties of machine loomed Kota fabric, which is also soft cloth with an airy feel that picks up the slightest breeze.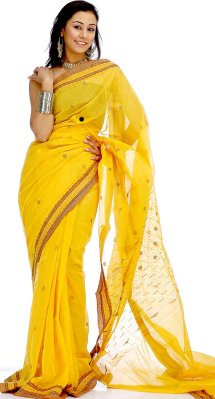 Kota Saree
Designs and Motifs in Kota Sarees
Kota saris have a special style which uses a combination of cotton and silk threads to create an almost graph like pattern called khats where cotton lends firmness and silk gives airy soft feel. This is called "Kota Doria" weave or the the chequered weave and this is the typical design found in almost all Indian kota saris. The chequered weave of a Kota sari is its unique characteristic. Besides the chequered pattern, there are other weaves in complicated designs in a combination of silk and cotton. Some of the weaves also have a narrow border edged with Zari. In the case of sarees with designs, the threads are dyed prior to weaving. The sarees have designs that vary from the traditional jal, checks, jacquard and jamawar pallus to a Chantilly lace-effect and intricate borders of gold and silver thread work. There are three main types of Kota sarees: Plain, Printed and Zari. Here, the plain kota sarees are made of pure cotton with having the typical checks patterns, the printed Kota saris have elaborate prints and patterns on the chequered base of the saree while the Zari Kota sarees have borders embellished with sequence and zari work and can be worn in formal occasions.
Because of the transparent look and feel, the kota saris are mostly worn during the summers to get relief from the extreme summer heat. The designs on these sarees also give a weightless feel.

Kota Saree Collection
Are you looking for Kota Sarees?Send Online Enquiry for wholesale purchase of Indian Kota Sarees, Cotton Kota Saris, Silk Kota Sarees, Handloom Kota Sarees