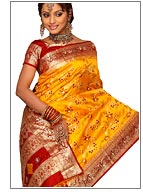 Silk sarees in India are very popular for any kind of occasion. Silk sarees are most exotic and sensual. Silk sari is a beautiful sari fabric. A women's wardrobe is incomplete without a silk saree. Silk has been a highly revered fabric in India. The softness, smoothness, luster and its graceful and sensuous folds of the fabric are marvels for designing silk sarees. Silk saris are often created with zari. Silk saris are popular all across India for their shine and glamour.
Advantages of Silk Fabric
Silk fabric is the best fabric available for drape and color because
It is very comfortable.
It absorbs moisture.
It is cool to wear in the summer yet warm to wear in winter.
It can be easily dyed.
It retains its shape and is relatively smooth.
It has a poor resistance to sunlight exposure.
It is the strongest natural fibre and is lustrous.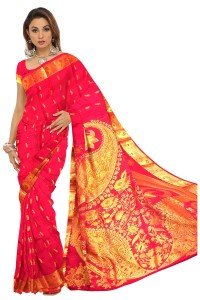 Types of Indian Silk Sarees
Every state has its own traditional silk weaving tradition. The main silk weaving centers are Banaras, Surat, Chander, Murshidabad, Mysore, Assam, Kanchepuram, Tanjore, Dharmavaram etc. Various silk sarees produced in these regions are:
Banaras is one of the leading silk sari producing centers of India. It is known for its heavy gold-silver brocades. Benares Brocades or Baneresi Silks are some of the richest sarees produced in India and is the most in demand sari for weddings and functions.
Kanchipuram Silk Sarees. Kanchipuram is famous for its silk sarees. The silk sarees are woven with fine silk with contrasting border & pallav woven with a variety of zari motifs. There are other areas in Tamil Nadu that are famous for their silk weaves such as Dharmavaram, Arni.
Orissa Ikat silk sarees. The shiney and burnished metal finish of the silk sari is it's most obvious appeal and is only possible through using the locally produced silk fiber. Orissa is famous for Vichitrapuri sarees. Here in addition to the patola technique, additionally have extra warp weaves of natural silk.
Patola silk sarees. Gujarat boasts of Patola silk saris executed in the resist dying technique. There are two types of Patola saris: the Rajkot patola and Patan patola. The notable feature of Patola saris are use of bright colors and geometric designs interspersed with folk motifs.
Paithani silk saris. Paithani silk saris of Maharashtra, decorated with the gold dot or coin motif are equally stunning.
In central India i.e. Madhya Pradesh stands out for its Chanderi, Maheshwari and Tussar silk saris.
Another notable centre is Murshidabad for Baluchari silk sari.
Andhra Pradesh is famous for the Pochampally sarees with the geometrical patterns, which are usually made with only the weft tie-dyed.
Bandhani silk sarees. Bandhani silk sarees of Rajasthan and Gujarat are very attractive.
The famous silk saris of Mysore enchant you with their traditional patterns delicately woven in real gold threads and brocade etc.
Muga silk in Assam produces the famous Muga sarees.
Indian silk saree has been popular the world over - for its sheer variety of designs, weaving and quality.

Send Online Enquiry for wholesale purchase of pure quality silk sarees and get the best response from silk sari suppliers and manufacturers