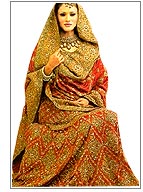 The bridal sari is bought with a lot of care. For a bride, her bridal dress is her topmost priority. Any married lady's most memorable, most treasured and most loved ensemble in her wardrobe is her bridal sari! In-fact, more than just a gorgeous outfit, the Indian bridal sari holds a lot of emphasis in the Indian tradition, as there is no greater event in an Indian family than a wedding.
Generally, there are different costumes for bride in different religions but saree remains the traditional dress. On the Indian subcontinent, bright colours are the highlights of bridal wear. In Hindu weddings, a bride would normally wear either a red bridal sari or a colored lehenga choli with the sole exception of white. Red sari is regarded as auspicious because it has several emotional, sexual and fertility-related qualities.
Fabric in Indian Bridal Sari
Silk sarees are the preferred choice of most Indian brides. Smooth and sensuous, the silk sari is the wedding sari that is found in rich colors that are a feast for the eyes. Indian bridal sarees are also made on fabric like satin, crepe, chiffon etc. Either the sari could be embroidered on the border and pallav or a particular type of a design used to enhance the sari in whole.
Design
Some of the options of bridal wear sarees are:
Banarasi sarees are the most popular Indian bridal dress. They have fine, hand woven exquisite zari work.
Rich Mysore silk sarees or pure Kanjivaram sarees can be selected in a variety of color combinations and prints. Kanjivaram silk is the typical South-Indian Bridal dress.
Kashmiri embroidered bridal wear sarees have a very elegant look and get up. Its exquisitely woven embroidery, very popular with the Marwaari community, gives a graceful look.
The bridal sari is always beautified with awesome embroidery and embellishment work like zari, organza, zardosy, sequins, cut work, mirror work, pearl work, kasab, kundan work etc.

Bridal sarees from Rajasthan encompass elaborate embroidered sarees in vibrant shades. Designs can be ethnic or modern.
A dazzling variety of tie & dye bridal sarees with the use of rich embroidery and embellishment work are also available. The bandhej sarees give the enchanting color of happiness, and the exquisite mirror, sequins, kundan, zari, gota work etc. add to the charisma.
Bridal saris feature a great deal of zari embroidery and kundan stones set in floral motifs.
There are also georgette block printed bridal saree, traditional bridal or trendy saris.
Italian crepe block printed bridal sarees, leheriya georgette bridal sari, silk gharchola bridal sari are designer bridal sarees.
All brides with their bridal sari and complete hair style and acessories want to look the best on the day of their wedding. Any bridal outfit should make moments cherishable. Like they say, you don't get married everyday.