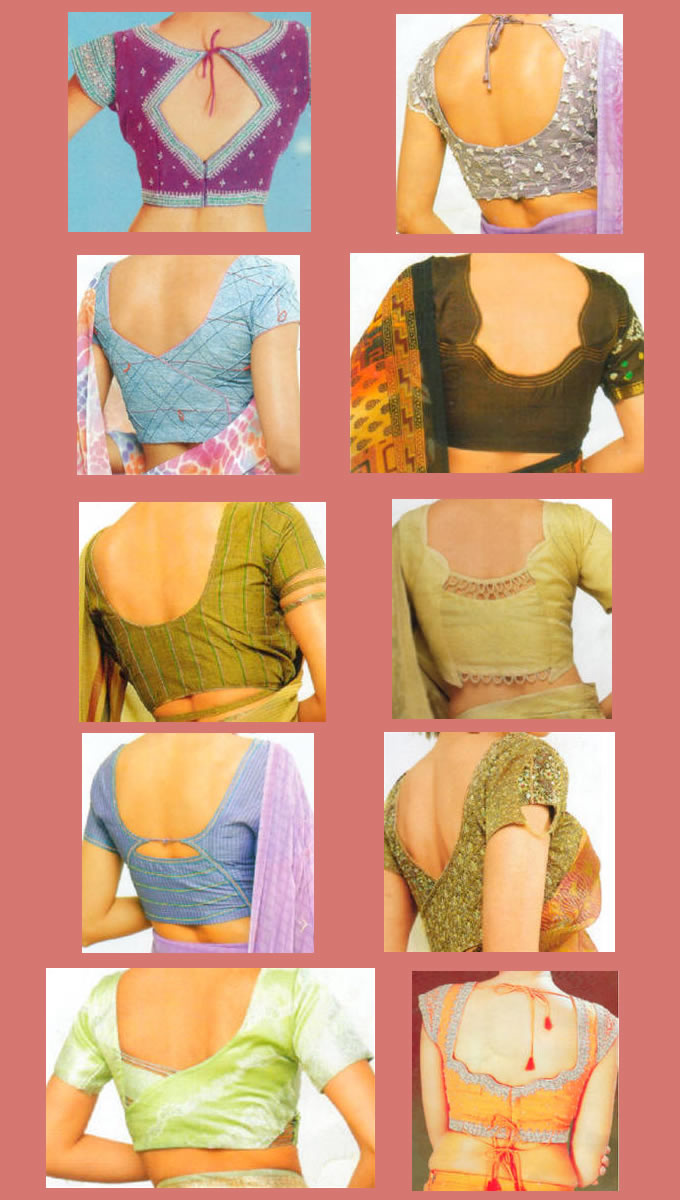 Indian saree blouses have undergone tremendous changes over the years in terms of cuts, styles, necklines, back designs and sleeves. Sari blouse is worn on the upper part of the body. Indian saree
blouse styles
depend on individual taste; it may have long or short sleeves or sleeveless and the blouse length can vary from very short to waist length with varieties of necklines and back patterns. It should fit tightly at the lower edge. The blouse colour may either match the colour of the sari or be in contrast colour. All sari blouses should be created with a full opening either in the front or in the back. This can be zipped or hooked with buttons.
As more and more women are becoming fashion conscious, more and more variations in Indian saree blouse are coming up. It is the age of change and the sari blouse is getting a makeover at the hands of designers, tailors and customers.
To know in details the changes in Indian blouses patterns, check out Latest Saree Blouse Designs
Styles of neck and back in Women Blouse
The actual beauty of the Indian saree blouse is seen in the neck and back designs. Designers are experiment with lots of style variations. There are ample of styles in neck and back in sari blouse. You have halter necks, backless cholis, low U necks, round-neck, boat necks, off-the-shoulder and a host of other sizzling designs that reveal and highlight the finer lines of the back and bosom are among the latest trends of the sari blouse.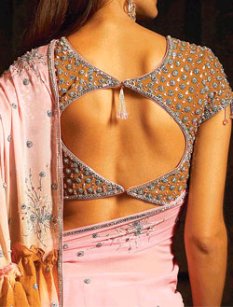 Saree Blouse Style
Indian Saree Blouse Styles
Depending on the neck, sleeve and back designs, Indian blouses for women can be classified into the following style patterns:
All these Indian blouses are custom made or tailored to fit. Ready made blouses are also available in the market but the design, colour, pattern should match the saree or some prefers to go for the contrast look like a plain saree with embroidered or printed blouse.
Fabric used in Indian Blouses
Cotton Blouse
Rubia Cotton Blouse
Pure Silk Blouse
Pure Crepe Blouse
Georgette Blouse
Chiffon Blouse
Net Blouse
Chikan Blouse etc.
However, it is to be noted, all Indian blouses are made of the same fabric as that of the saree. In case of transparent fabric like net, chiffon a lining is required. The lining material can be mulmul or organza.
Styles of Sleeves in Sari Blouse for Women
Full sleeves
Half sleeves
Sleeveless
Noodle strap
Bell sleeves
Butterfly
Three-forth sleeves
Puffed sleeves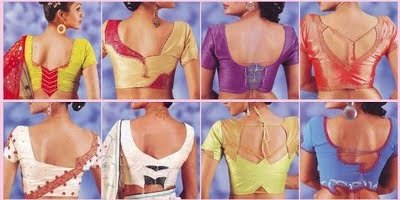 Saree Blouse Designs
Send Online Enquiry for Wholesale Purchase of Indian Saree Blouses from Reputed Saree Blouse Manufactures and Wholesalers
Related Articles