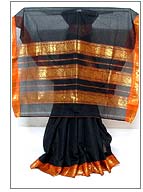 Chettinad sarees are a prized possession of every south Indian lady. Chettinad is a small town in southern Tamil Nadu state and it is well known for its sarees. These sarees have a simple and ethnic look which can be worn for all occasions. Sari weavers in Chettinad design the traditional chettinad cotton and silk sarees in contemporary colours and prints. Today a few manufacturers have undertaken to preserve traditional designs, and have given new life to it by mixing silk with cotton, giving the Chettinad sari designer status. Work is being done to revive conventional designs.
Chettinad Cotton Sarees
The most common fabric used in making Chettinad sarees is cotton. Chettinad cotton sarees are woven out of 100% pure cotton fabrics. New designs, patterns and prints in these sarees provide an appealing look besides imparting a distinct personality to the wearer. The handloom industry in Tamil Nadu is promoting and encouraging weavers of Chettinad who specialise in weaving handloom cotton and silk cotton chettinad sarees. These cotton sarees of chettinad have become all the more popular because of their unique qualities like colour never fades. The color remains the same even after many washes because of the unique threading length and quality adopted by the weavers. The chettinad cotton sarees with their simple and elegant look can be worn for all occasions.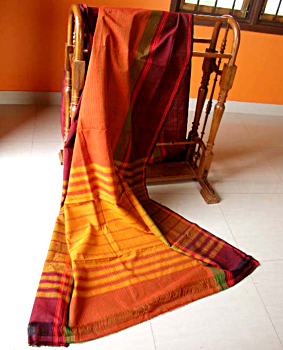 Chettinad cotton Saree
Chettinad Saree Designs and Styles
The chettinad sarees are known for their varied vibrant hues. The most common colors are mustard, brick red and black colors. Both cotton and silk are used in the making of these sarees. The use of both silk and cotton threads have given rise to a new look in these sarees, creating a sort of modern design with a traditional approach.
The main style of south chettinad sarees is the inclusion of checks and stripes of varied colors. There are huge contrast borders in appealing color combinations in these sarees. The contrast color borders together with the horizontal and vertical stripes give a very striking look and adding the zest of the fabric.
The width of the traditional Chettinad sarees is only 91cm as compared to the normal sarees with width of 120cm. Thus, when draped, this type of saree reaches only till the calves which provide a graceful flaunt of the wearer's anklets. However, today, the chettinad sarees are woven to the regular width of 120 cm.
Demand for Chettinad Sarees
With time, the styles and patterns of these sarees have undergone tremendous changes. There is no doubt that the chettinad saree indeed adds charm and delicacy to the wearer's personality if draped in a right way. Chettinad Sarees are today considered a glamorous wear for most Indian ladies. The chettinad sarees available in varied colors have always made them one of the most sought after traditional sarees in the Indian market. Slowly these sarees have also entered the foreign markets with lot many Indian manufacturers and
women wear suppliers
are exporting these sarees to other countries.

Are you Looking for Traditional Chettinad Sarees? Send ONLINE ENQUIRY for wholesale purchase of Chettinad Sarees, Chettinad Cotton Saris, South Chettinad Sarees, Chettinad Indian Saris