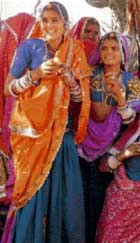 Traditional dress in India greatly varies across the regions in its colours and styles, and depend on various factors, including climate. The Indian lifestyle is governed by various ancient beliefs and traditions. India is a diverse country following different lifestyles depending on the place of origin, its habitat, climate and cultural influences. This is also seen in respect of the dresses worn by the people of India. Different states of India have their own individual identity in terms of the dress worn by the natives of that state. Indian men and women prefer to wear their traditional dresses during any religious ceremonies or festive occasions. Indian women traditional dresses have been successful in attracting the attention of and capturing the global market.
The Indian Traditional Dress for women is the traditional saree, the salwar kameez and the lehenga or ghagra choli. While in the norther region of India, the women prefer to wear salwar kameez or suits, the eastern and southern region women's traditional dress is the saree. In the western part of India like Gujarat, Rajasthan, the colorful tie and dye ghagra cholis are traditional dresses for Indian women.
The diverse cultures and traditions have greatly influenced the styles of these Indian costumes.
Indian Women Traditional Dress
The Indian women traditional dresses can be divided into five main categories region wise which are given below:
Popular dresses are salwar kameez, damaan, kurti, chunder, phuran, ghagra cholis etc. Check out the details
here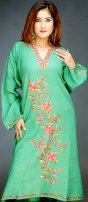 Popular traditional dresses of Indian women in the South region are Mundum neriyathum, Pavada Davani, South silk sarees etc.
Read more...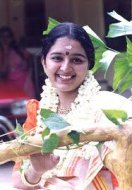 In the western region, the most common women traditional dress is the ghagra cholis and sarees. However the draping style of the saree is different in some states like Maharshtra. In Goa, Indian women wear western clothes.
Read more...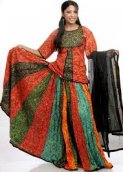 In eastern region, saree is the main traditional wear, especially for the the women in West Bengal.
Check out more...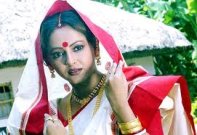 Mekhala Chaddar, Innaphi,Phanek, Jainsen, Dakmanda, Puan etc. Get to know them in details
here