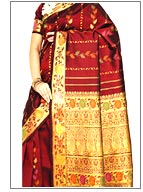 Kanjeevaram silk sarees are perhaps the most well known of Indian silk sarees. They are the famous sarees of Tamil Nadu. Kanjivaram Sarees are also world famous for their royal look and rich feel.
The Kanjeevaram silk sari gets its name from the town it originated in - Kanchipuram, a little temple town in Tamil Nadu. The Kanjeevaram sari is not only the choice for weddings in South India and elsewhere but also worn at all other auspicious and religious occasions. The Kanjeevaram sari is a tradition often passed on from mother to daughter over several generations as an heirloom in much the same way they might pass on jewellery or diamonds. A Kanjeevaram sari is made to last a lifetime.
Kanjeevaram Silk Sari
The Kanjeevaram sari is made of a heavy silk called Kanjivaram silk, so durable that it can be washed in water at home. It is one of the most finest and most popular forms of silk in Tamilnadu. Kanjee silk is thicker than almost all other silks, and is therefore more expensive. The heavier the silk, the better the quality. While there are light weight Kanjee sarees made from Korean and Chinese silk, only mulberry silk produced in Karnataka and few parts of Tamil Nadu, is right silk for the classic Kanjeevaram sari.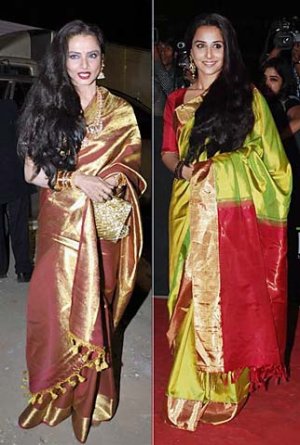 The Process of Weaving Kanjeevaram Sarees
The creation of a Kanjivaram sari is no easy task. The process begins with the the silk thread being twisted, then dyed and dried in the sun after which it is ready for the weaver's loom. The weaver creates the border, body and pallu separately and then interlocks them together in an impossible to detach joint. A weaver takes about 10-12 days to weave a simple Kanjeevaram sari while decorative ones could take up to 20 days. Kanjeevarams are favoured for their durability.
Kanjeevaram Saree Designs
Kanjeevaram silk sarees are always of bold and bright colour contrasts, favoured by almost every Indian woman. Some common designs woven on the kanjivaram sarees are as follows:
Peacock and parrot are the most common motifs.
Major attractions of Kanjivaram sarees are the also beautiful tribal designs.
Now focus is also on contemporary patterns.
These are sarees of vivid colour contrasts with traditional patterns derived from the Pallava temples, palaces and paintings.
You will also find scenes from the Ramayana and the Mahabharata and Bhagwad Gita being incorporated into these works of art.
A decorative saree contains Zari interwoven with the silk; the 'zari' work in the border and the Pallu are generally woven in gold-dipped silver threads. The more the Zari the more expensive you can expect the sari to be.
The Kanjivaram sarees can also be a plain silk saree.
There can also be little gold motifs scattered all over its body.
There are also sarees with gold squares or stripes.
Every sari is an artistic creation, a unique masterpiece and no two sarees are alike.

Kanjeevaram Saree Collection
Are you looking for Kanjeevaram Sarees? Send Online Enquiry for wholesale puchase of Kanjivaram sarees, Indian Kanjeevaram Sarees, Kanjeevaram Silk Sarees, South Indian Kanjeevaram Sarees