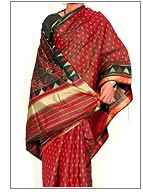 The patola saree is one of the finest hand-woven sarees produced today. Patola silk sarees are the pride of Gujarat. These sarees are created by using the resist dying technique. They are considered to be most elaborate and time consuming sarees produced in the western region, depicting the unparalleled and original hand work by the efficient weavers of India. Patola sarees are known for their flaming bright colors and geometric designs interwoven with folk motifs. Every patola saree is one of its kind as it is created entirely with the imagination and skill of the weaver.
Types of Patola Sarees
There are two types of Patola sarees:
Rajkot Patola: This is only vertically resist dyed (single ikat).
Patan Patola: This is horizontally-resist dyed (double ikat).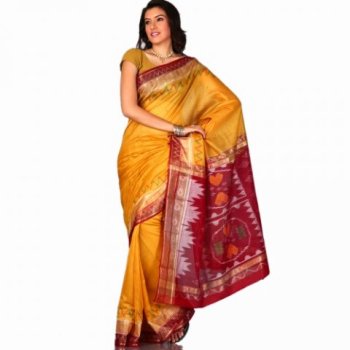 Patola Saree
Fabric in Patola Saree
Patola saree is woven from silk called the patola silk. The patola silks are still made by a handful of master weavers from Patan and Surat known for their zari work.
The Process of Making Patola Sarees
A
Patola Saree
takes 4 to 6 months to make, depending on how complicated the design is. The Patan patola is done in the
Double ikat style
, which is one of the most complicated textile design in the whole world. Each fabric consists of a number of warp threads and a single weft thread, which joinss the warp threads together. Each one of the warp threads is tie and dyed according to the saree patterns, such that the knotted portions of the thread do not catch the colours. The result is that both sides of the saree look exactly alike as if it is printed on both sides with the same design, and can be worn either way.
Patola Saree Designs
There are wide variations in the designs of Patola sarees. The most popular design is the geometric pattern. The designs are basically purely geometric forms of Islamic architectural structures and embellishments. Other popular designs are the floral and vegetal patterns. like the paan leaf or peepal tree leaf design, or floral basket design etc. The Patola sarees are also designed with dancing women patterns or elephant or parrot. The weaving is done on simple traditional handlooms, and the dyes used are made from vegetable extracts and other natural colours. Nowadays, chemical dyes are also used. Patola silk sarees with bright colours are also enriched with zardosi, kundan sequins. Patola sarees are gorgeous Indian sarees which can worn in any formal occasions. These sarees are the pride of the state of Gujarat.

Are you Looking for Patola Sarees? Send ONLINE ENQUIRY for wholesale purchase of Patola Sarees,Patola Silk Saree,Rajkot Patola Sarees,Indian Patola Saree