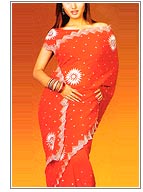 Georgette sari is often made up of nylon and polyester. It is the most graceful fabric. When draped properly, it can add charm to the beauty of the lady. It is a very soft and delicate texture that is comfortable, at the same time gives a gorgeous look. It is a party wear which has the most intricate designs. Georgette sari collection is like a treasure. The soft and shimmering georgette sari is widely used as the dress for women. The graceful drape of georgette gets perfectly blended with traditional Indian designs and patterns.
Georgette Fabric
Georgette is a lightweight fabric, often made of silk or from such manufactured fibers as polyester or nylon, with a crepe surface. It is slightly heavier and more opaque than chiffon. The twisted crepe fibers from which georgette is made gives it a springy quality that makes it seem to move on its own. Indian Market is famous for georgette sarees. These georgette saree come in various colours and designs suitable for all kinds of occasion. Variety of designs available in georgette sarees are as follows:
Printed georgette sarees.
The look of geogette sarees can be multiplied by zardosi or embroidery work.
Plain georgette sarees.
Designer georgette sarees etc.
The collection of traditional, printed and embroidered fancy saris made from imported and Indian fabric including georgette and crepes are a hit among the fashion conscious women of today.