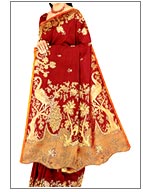 Zari sarees are very famous in Indian wedding. Brightly coloured, woven in silk, with intricate gold and silver borders, the Indian zari saris truly adorn the Indian bride's trousseau. Zari is a type of thread made of fine gold or silver wire used in traditional Indian garments. This thread is woven into fabrics, primarily made of silk to create intricate patterns. India has long been known for its golden thread of zari. Zari, the traditional art work has been passed down through the generations in India. Wedding celebrations in India are never complete without zari sarees.
Even in the ancient times, zari was known to adorn the attire of Gods and thus holds a distinguished place among all the crafts. The same heavenly feel is brought alive in the form of ethnic Indian zari sarees by our crafstmen. India's master craftsmen are proud to produce the richest collection of intricately
embroidered sarees
& wedding zari sarees with fine embroidery which is admired worldwide. Almost all sarees from various regions have zari work in them which give them an enhanced look.
Components of Zari Threads
The Zari sarees contain zari threads and these threads are composed of 3 components. The components of zari threads are:
Silver Wire: It is a very fine wire of silver that is made out of copper and silver, containing over 75% Silver.
Silk Thread: Silk threads form the zari thread's core.
Gold Coating: Uncoated silver threads receive coating of gold. There is thus a special silver thread that is gold coated. This is what Zari actually is.
These zari threads are then integrated on the saree using highly developed gliding and spinning process.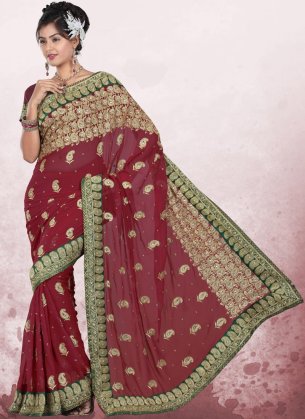 Various designs are available in Zari Sarees
The wedding zari saris have intricate embroidered patterns highlighted with embroidery material like stars and spangles, chalak, kinari, salma etc., which give a new definition to the golden and silver wires that form the base of Zari.
In some sarees, only the border is in silver or gold zari.
Some sarees have beautiful zari line pot coming as the body with a zari pallu and the border too is in zari embroidery.
Some sarees have the body with overall boontis of gold zari.
There are metallic zari work sarees as well.
A combination of pure silk and zari threads is highly demanded. Such Zari Sarees can be really elegant or highly appealing.