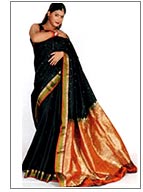 Every Indian woman desires to wear a Mysore silk saree. Mysore silk sarees are very popular sarees of South India. Rich Mysore silk sarees can be selected in a variety of color combinations and prints. The traditional Mysore silk sarees may soon be the next product which would put Karnataka on the world map. It will soon become as good as a patented product.
Mysore Silk Fabric
Mysore silk is one of the most popular and finest and purest forms of silk. Mysore silk is a famous variety of silk made in Mysore and Bangalore in Karnataka. Known for its extraordinary quality and permanence of luster, it is an integral part of the Karnataka's culture. In this region, people always wear some kind of silk while participating in a ritual. Mysore silk draws its fame from the purity of the silk, its lustre, softness and richness of its natural colour which gave it precedence over all other silks.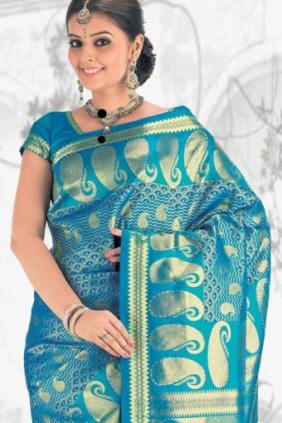 Mysore Saree
The Process
The weight and the content of gold or silver thread used mainly in the intricate border and the pallau or the headpiece determine the price of the sarees. A saree usually weighs between 400 and 600 grams (15-21 ounces). The silk is dyed using natural pigments and woven into intricate but, subtle patterns featuring motfis of birds or fruits. The painstaking production process by the weavers ensures that every aspect of the saree is perfect.
Mysore Silk Sarees Designs and Colours
Mysore silk saree with its extraordinary sheen of the fabric, purity of the zari, the distinctive drape, a wonderful non-crush quality, and a butter-soft feel gives a elegant look to anyone who wears it.These classy sarees are not only washable, but also durable. The zari too rarely fades because the yarn used has the maximum gold and silver compared to any silk saree in the country.The intricate zari work on the borders and pallu set them apart. Mysore silk saree is undergoing a makeover with new kasuti embroidery, bandhini designs, rich woven pallus, and with a palette of exciting vibrant colors lilac, ecru, coffee-brown and elephant-grey, and contemporary designs, all inspired by traditional Indian architecture and ancient Indian jewellery. This saree exhibiting a range of rich colors, with golden threads interwoven in it for an enhanced effect, has almost acquired a legendary status due to its sheer beauty and demand.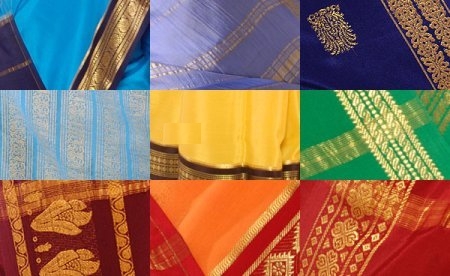 Are you Looking for Mysore Silk Sarees? Send ONLINE ENQUIRY for wholesale purchase of Mysore Sarees, Traditional Mysore Silk Saris, Rich Mysore Silk Sarees, Mysore Sarees