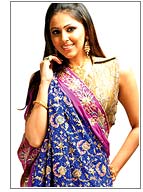 Bandhani sarees are highly coveted in all parts of India for the unique designs that are produced using the tie and dye technique. Bandhani Sarees, also known as the bandhej sarees, are the famous tie and dye sarees, typical of the of the Indian states of Rajasthan and Gujarat. The beautiful bandhani sarees with their small tie and dye works with elaborate creative designs and patterns and colors have been always a top favorite among all sari lovers. The demand for these sarees are seen not only in India but also across borders and have found its acceptance in the wardrobes of the rich and famous worldwide. Bandhani sarees have won a lot of appreciation in the fashion market.
The Tie and Dye Process for Bandhani Sarees
Bandhani is a handwork, which involves tying and dying of cloth. Bandhani sarees created by dyeing the cloth in such a manner that the tied 'spots' produce elaborate patterns over the fabric. To create the Bandhani designs, the Bandhej process involves tightly tying a string or "dori" around certain areas of the fabric and then dipping it in to a dye. After a short while, the fabric is taken out of the dye and the string is removed. On opening the fabric, you will see that the areas covered by the string have retained their original color while the rest of the fabric has been dyed. Bandhani work, after the processing is over, results into a variety of symbols including, dots, squares, waves and strips. The tying of cloth with thread and then dying it is the simplest and perhaps the oldest form of creating patterns on a plain piece of cloth.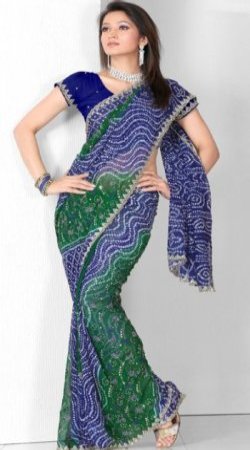 Bandhani Saree
Fabrics in Bandhej Sarees
Simple bandhani sarees are basically in cottons and are ideal for the Indian summers. There are also silk or chiffon bandhani sarees with sequins or zari work.
Colours and Designs of Bandhani Sarees
The dominant colors in Indian Bandhani sarees are bright like yellow, red, green and pink. Maroon is also popular. But with changing times, as Bandhani has become a part of fashion, various pastel colors and shades are being used. Single colour sarees with white spots are also common. There are bandhani sarees with contrast colours, with zori borders.
The various tie and dye spots on bandhani sarees are given different names depending on the shape and size such as follows:
Bindi (small dot)
Kori (tear-drop shape)
Chundadi (round spots)
Ghatadi (square spots)
Laddu jalebi (coloured sweets)
Dabbi (small box)
Matichar (block of color)
The other designs are referred as
Bandhej (tie n dye)
Lehriya (wavy patterns)
Batik
Mothra
Ekdali
Shikari
Cheent etc.
Are you looking for Bandhani Sarees? Send Online Enquiry for wholesale puchase of Bandhani Sarees,Bandhej Sarees,Indian Bandhani Sarees