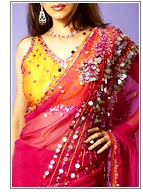 Fancy sarees are very popular in India expecially for the middle class Indian women. When we talk of a Fancy saree, it means any kind of saree with various mix and match design depending on the occasion in which to be worn. Thus, there can be Fancy saree for casual wear or fancy saree for formal wear. There can be regular wear Fancy saree as well as office wear Fancy saree.
A fancy saree is sure to catch your fancy with its colour combinations, fabric, and design. Fancy sarees are not any region or style specific. As such various designs are available in Fancy sarees. There is a
wide range of Fancy sarees
like
Fancy cotton sarees
Fancy silk jari sarees
Fancy pure silk sarees
Fancy pure cotton sarees
Fancy silk cotton mix sarees
Fancy banarasi sarees
Fancy synthetic sarees
Fancy crepe saree
Fancy georgette saree and so on.
All these sarees are available with embroidery, katha work, patch & gold printing, sequins work, zari work, various colour combinations and designs and lots more. All kinds of embroidered sarees, zari sarees, wedding sarees, designer sarees, bollywood sarees come under the category of fancy sarees which make them very popular.