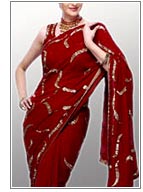 Jamdani sarees are much sought after by fashion-conscious working women for their elegance, comfort and light weight. Bengal is a large hub of jamdani sarees suppliers and different kinds of jamdani sarees.
Fabric in Jamdani Saree
Jamdani is a handloom woven mainly cotton fabric made, which was historically referred as muslin with geometric or floral designs. Jamdani sarees are in cotton, pure silk and tussar silk.
Jamdani Saree Colours
While the original Bangladeshi sari is almost invariably on a beige background, the Indian weavers are a little more adventurous in their choice of color schemes. A very classy look pervades in the traditional colours. Jamdani sarees are today woven in various color schemes from light shades for daily wear as well as formal occasions to bright shades for social functions.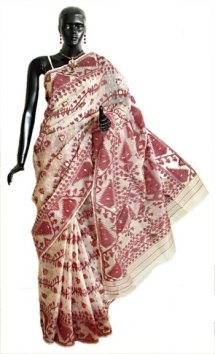 Jamdani Saree
Various types of Jamdani Sarees
There are at least four main varieties of Jamdani sarees:
Dhakai Jamdani
Dhakai or daccai jamdani sarees are different from other varieties by their very fine texture similar to muslin and the elaborate and ornate workmanship. These sarees have multicolored floral motifs all over the body and border. There are linear patterns as well and they have a bautifully designed elaborate pallu. The mango motif is a very popular design in Jamdani sarees.
Tangail Jamdani
These sarees have Jamdani motifs on Tangail fabric. That is the reason they are known as Tangail Jamdani. The traditional tangail borders had a "paddo" or lotus pattern, "pradeep' or lamp pattern. The other popular patterns are "aansh paar' which was common to Shantipur. From the use of a single colour on the border, they began to use 2 to three colours to give it 'meenakari' effect. Tangail has 100s count fabrics with highly styized motifs.
Shantipur Jamdani
This variety of sarees have a powder fine texture. Displaying elegance to its fullenst extent, the shantipur jamdani have borders on either dyed cotton-silk or art silk or viscose yarns or gold and silver zaris. With fine and delicate checks, stripes or a texture created by colored threads, the saree pallus have jamdani designs beautifully arranged along with stripes of different widths. Some tie and dye designs are also being used for the pallu of shantipur jamdani sarees.
Dhaniakhali Jamdani
Having a tighter weave than the "tangail" or "shantipur", Dhaniakhali Jamdani is more hardy. Its bold body colours and contrasting borders, stripes and checks patterns and absurdly low prices make them very affordable.
Some Common Designs and Motifs in Jamdani Sarees
The main feature of jamdani sari is the geometric design. The expert artisans visualize the design in the mind and weave the saree. The designs are given different names. For example, the common floral designs are Panna Hajar, butidar, tersa jamdani. There can be designs with peacocks and leaves of creepers, popularly referred as jalar naksha. when the saree is covered with rows of flowers, it is known as fulwar jamdani. Duria jamdani is another jamdani design with spots all over. Belwari jamdani design has colorful golden borders.

Jamdani Saree Collection
Are you looking for Jamdani Sarees? Send ONLINE ENQUIRY for Wholesale Purchase of Jamdani Sarees, Silk Jamdani Saris, Traditional Jamdani Saris, Dhakai Jamdani Sarees, Tangai Jamdani Sarees etc.