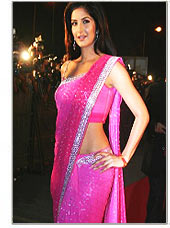 Indian women have always been inspired by the Hindi film industry popularly called Bollywood. Bollywood fashion is a passion for any Indian woman. Bollywood clothing, more importantly, is dear to women in India- be it a bollywood saree,
bollywood suit
or any other bollywood outfits. Bollywood wear in the wardrobes of Indian women is not a recent trend- it is from the time when bollywood actresses of the yesteryears started wearing fashionable clothes and changed the whole scenario of Indian fashion industry. Bollywood sarees were perhaps the first among other clothing to fascinate the women here.
Bollywood sarees of 1950s and 1960s
The natural beauties of bollywood like Nargis, Waheeda Rehman, Mala Sinha, Vajayanti Mala and a host of other bollywood actreeses sizzled the silver screen by wearing attractive sarees. Although in black and white cinema, the colors could not be seen, common women followed the designs of sarees and
designer blouses
that were mostly high neck blouses with full sleeves. These same heroines further mesmerized the Indian audience through Eastman color films where their sarees got more and more attractive. Most of the bollywood sarees of this era were
embroidered sarees
with various colorful thread and zari work. Some innovations were also made by introducing new designs like the one which Vajayanti Mala wore in the film 'Jewel Thief' song 'Aasma ke aage' which had cotton balls pasted or attached to the full body of a plain
chiffon saree
.
Bollywood sarees of 1970s and 1980s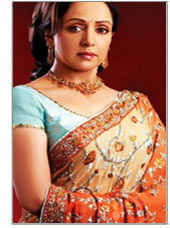 In this golden era, the changing trends of bollywood wear introduced many variations and newer styles. The
blouse
designs got bolder with low necks and various trims like bows or laces. The bollywood actresses- Sharmila Tagore, Mumtaz, Asha Parekh, Hema Malini, Rekha, Jaya Bhaduri (now Jaya Bachchan)- all contributed in introducing a different fashion style of their own. While Sharmila made the transparent synthetic sarees worn with low neck blouses popular, Mumtaz brought a complete new style of wearing saree by wrapping the pallu twice in a manner where the narrow border of plain saree shows two circles- one below the knees and one above them. Tightly worn ethnic sarees of Asha Parekh brought out the magic of perfect hourglass figure of Indian women.
While Jaya Bachchan made popular the traditional
cotton sarees
that she wore in films like 'Parichaya' and 'Abhiman', Hema Malini and Rekha gave
Indian sarees
a glamorous look. Both of them wore all types of sarees- be it
kanjivaram sarees
,
fancy sarees
or
printed sarees
. These heroines were liked immensely by all people in all kinds of sarees. The Polka dot saree of Reena Roy is still popular with women with the size of dots getting smaller and larger in a cyclic manner. The trend of matching
fashion accessories
with saree like bags, shawls and hair accessories also saw a rise among the common women with inspiration from Bollywood actresses in this period.
Bollywood sarees of 1990s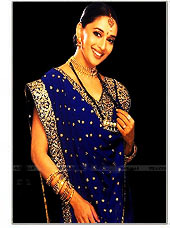 Although the era of 1990s saw the rise of women western wear, bollywood saris could not be replaced by them- as is obvious due to the magic of Indian sarees. Sridevi, Madhuri Dixit, Jaya Prada, Meenakshi Sheshadri, Juhi Chawla, Urmila Matondkar, Tabu- all wore different sarees and made a mark in the history of bollywood sarees. Sridevi always looked great in whatever saree she wore- be it the
sarees of South India
in films like 'Tohfa' or the hot bollywood sari she wore in the sensuous song of the film 'Mr India'. The desiner saree of Madhuri Dixit in purple color in the film 'Hum Aapke Hain Kaun' brought a revolution in the saree industry by raising the demand of this saree among the women of whole India. The more
traditional Indian sarees
worn by Jaya Prada, Meenakshi Sheshadri and Juhi were equally accepted by the Indian women as were the sensuous sarees worn by Urmila in films like 'Rangeela'. The graceful sarees of Tabu were also a hit with the Indian women.
Bollywood Sarees of 2000s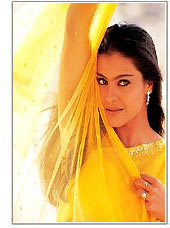 In the later years of 1900s and beginning from the year 2000, the fashion designers of India took over the charge of makeover of Indian Bollywood actresses. The
designer sarees
worn by Kajol, Rani Mukherjee, Karishma Kapoor, Aiswarya Rai (now Aishwarya Bachchan), Sushmita Sen never gave sarees a chance to look back. The simple plain chiffon and
Georgette sarees
with flowing effects worn by Kajol, Rani and Karishma in films like 'Kuch Kuch Hota Hai,' 'Hum Tum,' and 'Raja Hindustani' made them an essential wardrobe items for every Indian woman. Same was the story of hot sizzling saris of Sushmita Sen that she wore in the film 'Main Hoon Na'. Aishwarya and Vidya Balan made popular the
sarees of East India
and also the bengali style of draping saree through the films 'Devdas' and 'Parineeta.' It got so popular that the brides in that period wore their
bridal sarees
in this style, no matter which state they belonged to.
Latest Bollywood Sarees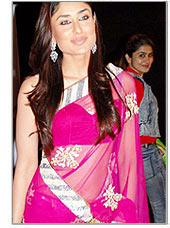 The recent trend of bollywood sarees has a different story to tell. Although Indian ladies love to buy the saris worn by Bollywood actresses in the films, they prefer to have sarees that these actors wear publicly in some functions or ceremonies like award ceremony or film parties and even in fashion shows. Of late, bollywood has been attracted towards ramps of famous fashion shows and promote the dresses including bollywood saris of their favorite fashion designers. Therefore, the fuchsia polka dots sari of Aishwarya that she wore while receiving the national film award, the pink designer saree worn by Amrita Rao in the
Wills Lifestyle India Fashion Week Spring/Summer 2010
or the Manish Malhotra designer sari worn by Priyanka Chopra in Asian Film Awards ceremony- the IIFA 2009, are the latest craze when talking about bollywood sarees. One more characteristics of today's bollywood sarees is that they are essentially designer sarees with mostly silver colored work or with a litter wider border having slight work on the body of saree. Designer blouses have got popular like never before to accompany these fabulous Bollywood sarees.