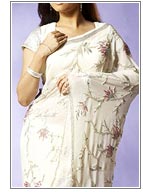 Bomkai sarees are the traditional Indian sarees produced in a small town called Bomkai in Orissa. These sarees have touches of ikat work, like the Sambalpuri sarees or the
patola sarees
of Gujarat. Bomkai sarees were in existence since the days of the kings and maharajas. Today also bomkai sari symbolizes sophistication and a class and every East Indian woman would prefer to have a bomkai saree in her wardrobe. The saree is known for its exclusive weaving patterns and traditional designs.
Fabric in Bomkai Saree
Both cotton and silk fabrics are used in making Bomkai sarees. For regular wear, cotton bomkai is favoured. A Bomkai Cotton Saree is also an excellent choice for any religious function. Bomkai Silk Sarees are generally worn in formal and semi formal occasions. Bomkai sarees are made of easy to wear fabrics depicting beautiful designs and patterns.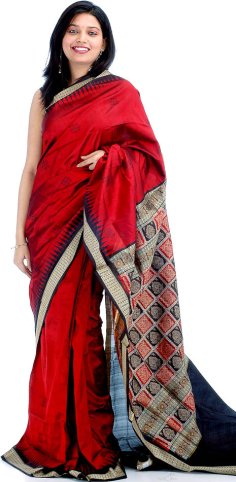 Bomkai Saree
Designs and Motifs of Bomkai Saris
There are Bomkai sarees with elegant designs, enchanting colors for the exclusive women. Some Bomkai sarees have small fishes woven onto the border. Fish symbolizes prosperity and good health. Bomkai sarees feature threadwork ornament borders and pallu. East Indian ladies love to wear Bomkai sarees for their traditional tribal look, as well as their understated and elegant color pallette. A combination of ikat and Bomkai is very unique.
In the Bomkai weaving patterns, the weavers use different color combinations in the warp and the weft. Warp alone is processed on the borders, while for Anchal and Pallus of sarees, weft is processed. The overall saree designs have both the warp and weft processed. The Bomkai pattern is created by the technique of Jala on the fabric. The weaving pattern has been a very old one. The designs in the saris are inspired from the caves of "Khandagiri" in Orissa. Almost all the villagers in the bomkai district of Orissa are involved in the weaving of silk with Bomkai patterns.
The bomkai sarees are beautifully made with angular discontinuous supplementary weft patterns woven in the endpiece in contrasting colors. The common designs or patterns available in these sarees are known by various Indian names like dombaru (small hourglass-shaped drum), kanthi phoola (small flower), rukha (pestle, stick), karela (bitter gourd), peacock as well as fish. A broad band of supplementary warp patterning popularly referred as "mitka-panji", which produce a latticework of small diamond shapes is a popular design found in the sarees.
The Bomkai sarees are true representation of the artistic skills of the artisans of East India. These traditional
East Indian sarees
excellently symbolizes the very tradition as well as culture of India through their weaving patterns and needlework.

Bomkai Saree Collection
Are you looking for Bomkai Sarees? Send ONLINE ENQUIRY for Wholesale Purchase of Bomkai Sarees, Silk Bomkai Saris, Traditional Bomkai Saris