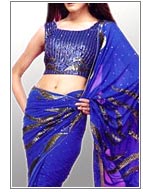 Chanderi sarees are the famous sarees produced in a small town called Chanderi in Madhya Pradesh. Chanderi sarees are very light and ideal for Indian summers. Its beauty lies in its simplicity, airy feel, narrow borders and decently designed anchals with buttis. The Chanderi sarees give a sophisticated look to whoever who wears it.
Types of Chanderi Sari
Narrow border: These are the plain sarees having a very narrow border of complementary-warp zari and an endpiece containing a few narrow zari bands, or one single, wider band.
Broader border: These are the sarees with broader borders woven in supplementary warp zari with coloured supplementary-warp silk embellishments, woven into small repeat floral or geometrical designs. The endpiece consisted of the border elements repeated twice as two parallel bands, often with narrow woven lines and many buti woven between them.
Wide border: The third type called do-chashmee (two streams) is no longer made but had wide borders with brightly coloured supplementary- warp silk in a satin weave upon which were supplementary bands of white geometric patterns. In some sarees the borders were reversible.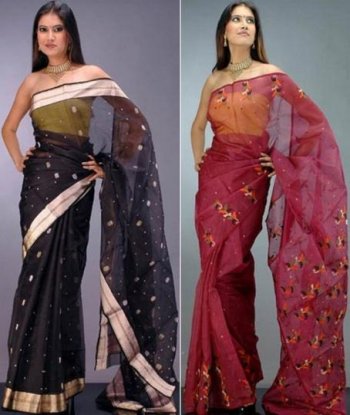 Chanderi Saree
Fabric in Chanderi Sarees
The Chanderi sari is woven in cotton as well as silk. Chanderi silk from India is the result of traditional methods of hand-weaving that have been developed over the centuries, and passed down through generations. Chanderi silk is considered the fabric of choice for sarees produced for royalty, due to its light-weight quality and intricate designs.
Colours and Designs of Chanderi Saris
These sarees are a rare fusion of soft & contrasting colors.
The plain cotton ones are with borders and have stripes and floral patterns.
There are also ones which have butis on the body of the saree as well.
Silk sarees are woven with zari borders and have zari and thread work all through the length of sari, giving it an elegant and dazzling look.
Chanderi sari is known for soft colors and the harmonious balance between the border and the body of the saree.
These sarees are also known for their contrasting colors and the depiction of animal and human figures on them and patterns taken from the Chanderi temples.
Chanderi Sarees: Hand Woven Sarees
Chanderi, the small town in Madhya Pradesh is famous for its hand-woven sarees. It is a well known hub for traditional sari weavers. There is a huge demand of Chanderi sarees, made with mix of silk and cotton, in middle and high societies of India. Originally, the weavers used handspun cotton warps and wefts in producing chanderi saris. It was spun as fine as 300 counts. This was considered very valuable amongst all types of cotton fabrics. With the Industrial Revolution in the 1930's, the weavers of Chanderi discovered Japanese silk and this was used in the warps in cotton sarees. The traditional weaving of Chanderi fabric is used only in the making of sarees and suit materials, though nowadays it is also used in the making of home furnishings linens. The sheer texture, light weight and a glossy transparency of chanderi fabric has increased its popularty day-by-day.
Indian Chanderi Sarees: Geographic Indication Status
In India, the production of Chanderi silk has been protected as a Geographic Indication (GI). GI is a symbol used in those quality products having a specific geographical origin. As a World Trade Organization member country, India passed the GI of Goods Act in 1999, which provides the registration and better protection of Geographical Indications relating to products. India has petitioned the WTO for the recognition of Chanderi as a GI product at the international level as well.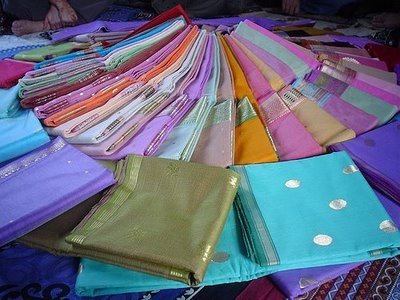 Are you Looking for Traditional Chanderi Sarees? Send ONLINE ENQUIRY for wholesale purchase of Chanderi Sarees, Chanderi Cotton Saris, Chanderi Silk Sarees, Indian Chanderi Saris