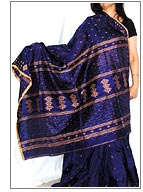 The most well-known Bengal Silk sari, which carry its legendary name, is the Baluchari sari - a product of exquisite design and fabulous weaving technique. Produced in the town of Baluchar in Murshidabad district of West Bengal, Baluchari sarees are nation and world wide popular because of their artistic and unique design. 'Baluchari' is one of the most popular weaving techniques of Bengal. Baluchari is one of the most popular sarees of
East India
.
Fabric in Baluchari Sari
Silk weaving of Baluchar continues to be an important landmark of Bengal's handloom tradition. Baluchari sarees are woven in Bengal silks which are much acclaimed in the world over, since ancient times. The Baluchari silk saris produced in the town of Baluchar in Murshidabad district, have a silk base with silk brocaded designs. Like silk, cotton baluchari sarees are also woven in a fascinating and exquisite range. The cloth is very fine and transparent with a soft drape.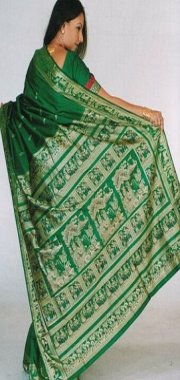 Baluchari Saree
Designs and Colours of Baluchari Saris
The baluchari sarees are famous because of their elaborate pictorial designs woven using high quality silk yarns. The typical colors used in baluchari saris are red, blue, yellow, green and scarlet colors. The base colours of the baluchari saris are chosen from the flaming red, dark red, purple, blue and, yellow though these appear soft and subtle. The Butis are usually woven with the wefts in cream, white, red, gold, orange and yellow hues. The most attractive feature of these saris is highly decorative Anchals.
It is said that the weavers from Mushidabad usually belong to the muslim community and hence the sarees depict designs symbolizing Muslim events, items or traditions. For instance, you will find traditional muslim court scenes, women smoking hookah beautifully woven in the sarees. Also horse with a rider, two lovers on a pleasure boat, woman riding a horse holding a rose in one hand with her plait flying behind her are other common designs available in the baluchari sarees. These designs are woven on the entire body or simply on the borders. There are also various architectural designs like large floral motifs interspersed with flowering shrubs available in these sarees. The Kalka design or the cone motifs with floral borders are also popular.
The baluchari sarees also have rich Indian religious significance. There are certain baluchari sarees with scenes of the Ramayana and the Puranas, specially designed on the pallu of these sarees. So the baluchari saris truly signify the religious views and history of Hinduism.
Another design feature typical to these sarees are rich composition of colors but no contrasts in colors are seen in the buttis and the base. In other words, each design is intricately designed with colours which balance with the base on which it is laid. The traditional designs, the silk fabric and the weaving technique all together adds to the exclusivity of baluchari sarees. Balucharis saris have always belonged to the strata of aristocracy and class. Manufacturers and wholesale suppliers of balucharee sarees have always taken great interest in the maintenance of quality of Baluchari saree. The quality is checked from the stage of dying of the yarn to the packaging of the saree. The designs in these sarees are so complicated that sometimes a dozen weavers are needed to work on a single sari, and each pice takes almost six months to create.

Baluchari Saree Collection
Are you looking for Baluchari Sarees? Send ONLINE ENQUIRY for Wholesale Purchase of Baluchari Sarees, Silk Baluchari Saris, Traditional Baluchari Sarees