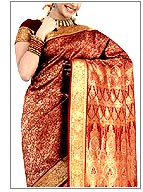 Banarasi sarees are world famous for their royal look and rich feel. These sarees are a combination of style, beautiful craftwork and good quality. 'Banarasi Saree' is considered to be the Indian 'SUN' in the world of fashion and has been a subject of great inspiration and appreciation world-wide. It was in the Mughal era Baranasi saree came into popularity and since then it has retained its fashion recognition. Today, this Indian fashion sari has witnessed a continuous growth in demand in both Indian and International markets. Produced in banaras and few small towns of Uttar Pradesh in India, Banarasi sarees have become one of the most popular
bridal sarees
for Indian women . Indian Banarasi sarees joins the club of protected goods and have received a Geographical Indication (GI) status by the government of India.
With the grant of GI tag, it is to be noted that no saree or brocade made outside the six identified districts of Uttar Pradesh can be sold under the name of Banaras Saree. This will protect the producers of pure banarasi silk sarees from sarees produced in other regions but sold under the tag of Banaras saree.
Fabrics in Banarasi Sarees
There are mainly four varieties of Benarasi saree available today. They are
Pure silk (katan)
Organza (kora) with zari and silk
Georgette
Shattir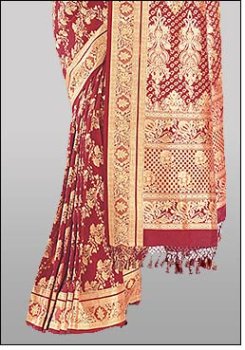 Designs and Motifs of Indian Banarasi Sarees
The Banarasi silk saree is popular for its rich and intricate weave and zari work. Banarasi Sarees have persian designs of the Mughal era with original gold and silver threads . Though today, the gold and silver threads are used in small proportions, they are replaced by fine quality zari or resham thread. The brocade that is used in producing these sarees are Amru silk brocades which are world famous. Jamvar, Navrangi (nine colors), Jamdani etc. are other brocade types from the range of Banarasi sarees. Some of the designs on the body of a banaresi sarees are as follows:
Benarasi saris often depict scenes of villages, fairs, flowers, dancing monkeys and clouds. Traditional designs remain the base appeal for Benarasi sarees.
There are also temple and mosque designs. They come up in all shades.
Most brocades usually have designs that exhibit Mughal patterns such as intricate intertwining floral and foliate motifs, kalga and bel.
A distinct feature found along the inner, and sometimes outer, edge of borders in this saree is a narrow fringe like pattern that often looks like a string of upright leaves called jhallr.
The pallus of these sarees have elaborate designs woven in zari, gold and multicolor thread which lend the sari its elegance.
Its major attraction lies in colorful dying of silk fabric.
Owing to its beautiful designs and colors, a banarasi silk sari always has come to occupy a special place among buyers, throughout the world. The people with rich taste love the beauty and intricate design of the Banarasi sarees as these are very elegant and gorgeous. The creation of Banarasi Saree requires time, effort and dedication to churn out beautiful designs using high quality resham or zari on the fabric. This wondeful cration in the small town of Varanasi has become one of the most southt after item of clothing from all over. Indian Benarasi sarees distinctively attracts attention of the world of fashion.

Banarasi Saree Collection
Are you looking for Banarasi Sarees? Send online enquiry for wholesale purchase of Banarasi sarees, banarasi sarees for women, banarasi silk sarees, indian banarasi sarees