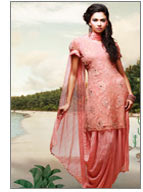 From among all the types of
salwar kameez
, patiala salwar is the example of a perfect blend of traditional style with modern looks. It is, in fact, a
designer salwar suit
in its vary basic form. The essence of this salwar kameez lies in its typical salwar design, which has taken the name 'Patiala' from the famous city in Punjab, India. Even today, the 'Darjiya Wali gali' in the old city of Patiala is famous for making fine Patiala salwar suits.
Origin of Patiala Salwar Kameez
This salwar with its original name 'Patiala shahi' salwar was the attire of royal families of Punjab. The reason can be found in the fact that a lots of cloth is required to make this salwar. It needs about 4.5 meters as compared to 2.25 meters required for salwars of
traditional salwar suits
. Common man could not afford to get about 7 meters of fabric for making only one salwar suit set. Therefore, it was limited to the royal and rich families.
Making of Traditional Patiala Salwar
A patiala salwar suit differs from traditional
punjabi suit
in its style of cutting. While a regular salwar is cut after the cloth length is folded into half, the Patiala salwar is cut after spreading open the whole 'arz' or 'panna' of the fabric. That's why, it uses nearly double cloth of what is used by a regular salwar. When this cloth is sewed into salwar, it is folded into layers to make many pleats that gather at the waistline and drape below gracefully, giving the beautiful appearance of the famous patiala salwar. The traditional suits have printed salwar with phulkari
dupatta
in satin or silk, and plain, simple, fitted and short kameez having length till above knees. Patiala suits in rich fabrics that drape well like a
silk salwar kameez
gives it a true glamor. However, other fabrics like cotton, Georgette, crepe, etc. are also used these days to make patiala salwar kameez.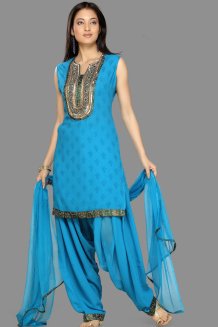 Difference Between Traditional and Modern Patiala Salwar Designs
The traditional patiala salwars used to be very heavy due to the accumulation of numerous folds around the waist when tied. Also, it had an enormous 'Ghera' or circumference. While the modern patiala salwar too is cut in the old style till date, it has somewhat lesser circumference at the waistline (although this is comparatively more than the regular salwars). This has been made possible due to an innovation in its design made by Master Santokh Singh, who is considered the 'creator' of the modern Patialashahi salwar. He introduced the 'belt' at the top of the salwar. This also contributed in reducing the amount of weight that the women, who wore patiala salwar, had to carry. This one change in the design of patiala shalwar has made it so popular that it retains its place no matter what comes in and goes out. Although most of the women prefer to get
custom or tailored salwar kameez
for perfect fit, readymade salwar suits in patiala style are also not uncommon.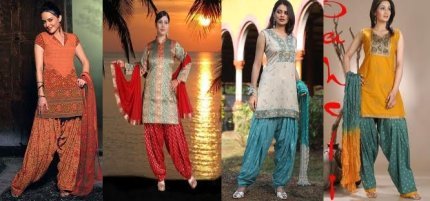 Send Online Enquiry for wholesale purchase of Patiala Salwar Suits
You Might Also be Interested In