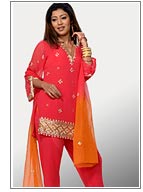 Today, silk salwar kameez is yet another word for elegance. Silk is one of the oldest textile fibres known to man. Silk is a luxurious and sensuous fabric, one associated with wealth and success. Silk salwar kameez are prized for their versatility, wearability and comfort.
Silk fabric is the best fabric available for drape and color because
It is very comfortable.
It absorbs moisture.
It is cool to wear in the summer yet warm to wear in winter.
It can be easily dyed.
It retains its shape and is relatively smooth.
It has a poor resistance to sunlight exposure.
It is the strongest natural fibre and is lustrous.
Silk salwar suits can be worn for all seasons. Silk salwar kameez is a special dress for all occasions, especially party wear, wedding and festive occasions. Silk salwar kameez are available in various designs and patterns. Heavy embroidery is made on the suits with zardosi and zari work. The traditional Indian silk salwar kameez include intricate mirrorwork, bead work, zardozi, swarovski, zari, dabka, kashmiri, kundan, handwork in silver and golden threads and also floral prints and beautiful motifs in checks, rajasthani, batik, bandhej, jaipur and tie dye pattern. Silk salwar kameez are popular all across India for their shine and glamour. Silk salwar kameez gives a sophisticated and elegant look because of its unique design and softness.