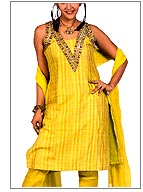 The popularity and comfort of the salwar kameez has reached such stupendous heights that most of the new breed designers have started channelizing a major portion of their creative abilities to give this ensemble a new look. Varying from the ethnic touch to the cocktail look, the salwar kameez has come to suit all occasions and what could be better and more creative than adaptation of embroideries and other designs on salwar kameez. The Indian salwar kameez too has had many design changes. The new designers have come up with great variations of the Salwar kameez.
Designer Salwar suits have no parameters of creativity or it does not follow the rules of traditional parameters upto some extent. Designer Salwar Kameez may be the result of non-uniform creativity, unmatching imagination, odd combinations, uneven proportion, number of fabric but the results give the value to the community who wears it.
Bollywood has very hot market of designer salwar kameez. Bollywood actresses have a liking for these type of designer salwar kameez which make them look attractive and sexy.
Designer Salwar suits implement work like uneven patches of different fabric on base fabric, resham embroidery, silver embroidery, golden embroidery, metal beads, real pearls, different shapes and curves, stylish cuts, buckles, wood beads, glass beads, glass work, lace work, net work with sexy looking linings showing the body underneath.
Fashion designers follow blending concepts in terms of designs and patterns using a great combination of silk or cotton threads. Designer salwar kameezes are ideal for marriage and party wear. Young girls who wish to make their own fashion style generally choose designer salwar kameez which is modern yet has the touch of Indian tradition.