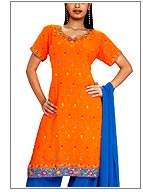 The Indian salwar kameez in Cotton gives a pure relaxing comfort. Cotton salwar suits are the most favoured salwar suits for Indian Women. Cotton Salwar Kameez is a maximum sellable item in the hot season amongst the Indian women community. Cotton salwar kameezes are suitable for all occasions starting from home to college to office to any formal occasions which give a very graceful and elegant look.
Types of Cotton Salwar Kameez
Various types of cotton salwar kameez are as follows:
Pure Cotton Salwar Kameez This is made of seed-pod of the plant of cotton, silk fibre in their raw state from cotton plant. It is pure cotton and made from raw cotton and after implementing the procedures it becomes cotton fabric. It has a feature of shrinking on first wash. Nice and cool to wear, good for hot season and does not effect on the skin like other synthetic clothes. There is no match for cotton kameez salwar in respect of comfort, designs and cost.
Khadi Cotton Salwar Suits Khadi is fine, viscose-blended cotton. There are so many qualities in khadi cotton. Khadi cotton has a big role in designer's cotton salwar kameez these days. There is a myth that cotton is out of age and fashion. The khadi cotton kameez salwar is a symbol of simplicity.

Mix Cotton Salwar Kameez This is not pure cotton. It has ratio of 50% cotton and 50% synthetic cloth. This treatment gives stiffness to the cloth and there is no shrinkage on first wash. The compositions with cotton may be with tericott, wool, silk or any other fabric.
Other Cotton Salwar Suits There are so many names that are famous in the cotton cloth market like South Cotton, Ahmedabad Cotton, Crush Cotton, Rajasthani Cotton etc. In these type of cottons there is undoubted difference which depends upon the proportion to form the cotton fabric but basically the cotton has one origin.
Design
There are various design and patterns in cotton salwar kameez. These can be plain, printed, embroidered. Chikan embroidered cotton salwar kameez are very popular. Traditional bandhej prints from Rajasthan, sambalpuri prints from Orissa, phulkari embroidery of Punjab and other beaded and sequins work in cotton salwar suit give a gorgeous look to the otherwise simple salwar kameez. Simplicity, functionality and very Indian, Cotton Salwar suit is the most popular Indian salwar kameez for women.
Cotton salwar suits give a sophisticated, feminine, graceful and elegant look to any Indian lady.