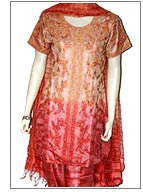 Despite stiff competition from sarees and ghagra cholis, the salwar-kameez has maintained its position as the most practical and elegant garment in Indian fashion. The popularity and comfort of the salwar kameez has reached such stupendous heights that most of the new breed designers have started channelizing a major portion of their creative abilities to give this ensemble a new look. Varying from the ethnic touch to the cocktail look, the salwar kameez has come to suit all occasions, specially weddings.
Generally, there are different costumes for bride in different religions. Traditionally speaking, Salwar Kameez is the bridal wear for only punjabi ladies. Nowadays, however, young brides from North India also wear salwar kameez on their wedding day. A Sikh bride wears a bright salwar kameez. The color of the Kameez is mostly red or magenta. The Dupatta is a must on the head of the bride. The salwar kameez is a heavily embroidered one.
On the Indian subcontinent, for wedding purpose you can opt for colors like rust brown, shades of red and yellow because it is considered auspicious colors for Indian bride. The rich colours which are used are symbolic of festivity/fertility. Today brides prefer a contemporary look, a balance of modern with the tradition. Yet, there are brides who don't mind being more flamboyant or going for the 'mix and match look'.
The bridal salwar suits comes in different fabric and style. Mostly bridal suits are available in silk and brocade. Heavy embroidery is made on the suits with zardosi and zari work. Lucknow is renowned for its famous chikankari suits. But the styles chikankari and zardosi have evolved over the years. Zardosi embroidery, which is done with gold thread, is mostly seen in bridal suits. Nowadays Patiala style of salwar suits is in vogue. It has lots of gathers, and drapes in an elegant mould forming even folds from hip to ankle. With the passage of time, the style of kameez salwar suits has changed. A stunning salwar kameez with intricate golden embroidery beauty is an unparallel and absolutely gorgeous suit, just perfect for brides looking for something unique.