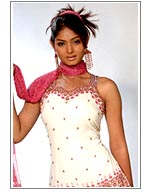 The Salwar kameez is gaining in popularity fast with both the younger and older generation. New designers have come up with great variations of the Salwar kameez. Bombay, the hub of fashion creates some innovations in salwar suit variety almost everyday. Available in innumerable range, salwar kameez is demanded by women of all ethnicities and age groups and can be worn for all occasions.
Who wants to go bankrupt on finding "THE PERFECT" ensemble for any formal occasion or adding variety to our everyday clothing? Salwar Kameez is the ideal choice. Even formal salwar kameez tend to cost less than western formal clothing.
Indian formal or party wear salwar suits are generally made up of a silk, satin, crepe, chiffon and georgette fabrics, can be worn on festivals or other celebrations. The party wear Indian salwar kameez decorated with embroidery and mirror work is very feminine and graceful.
Indian party wear salwar kameez come in many different styles.
Some prefer to go for short kurtas with intricate embroidery and mirror work.
Many could afford more intricate brocade, tanchoi and heavy satins even with real gold and silver embroidery, studded with precious stones.

Pakistani salwar suits too are very popular.
Chikankari, Zardosi, Bandhej, Phulkari, beaded sequins, mirror work and block cum handprints are all time favorites among the ladies.
Some ladies prefer fusion wear like sleeveless top style kameez with long slits and deep cuts or spaghetti kurtas to give a modern look.
For marriage and festivals, they will go for heavy embroiderd salwar kameez.
Fashion designers follow blending concepts in terms of designs and patterns using a great combination of silk or cotton threads.
Young girls who wish to make their own fashion style generally choose designer salwar kameez which is modern yet has the touch of Indian tradition.