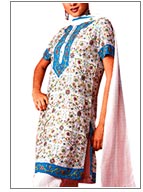 Inspite of emergence of various western dresses in the Indian market both for casual and formal wear, Salwar kameez still remains the most favoured outfit for all occasions.
Though a small segment of urban India has been exposed to, and often accepted new fashion directions, most Indians hold a more conservative view. Almost all married ladies of our country wear a saree or a salwar suit at home, expecially the middle aged and the old ladies. In India, salwar kameez is the most common casual dress for young women. These salwar suits are very popular as these are worn almost daily and wanted regularly in the market. You can wear casual salwar kameez anywhere and on any occasion.
The casual Indian salwar kameezs are wonderfully comfortable, ideal for the long hot Indian summer. Casual salwar suits can be used both for daily wear and office or college wear.
Casual daily wear salwar kurtas can be of cotton, chiffon or any other fabric. Cotton is the best salwar kameez as casual wear. They are cool, flowing and elegant. Fancy shalwar kameez are suitable for any occasion, casual or formal.
Casual salwar suits are available in designs ranging from ethnic chic to traditional to modern prints, in a wide range of fabrics. Women of all sizes can wear these outfits with confidence. These sets are available in various prints, color schemes and styles. The casual styling and light colors and mild embroideries give these garments its appeal.