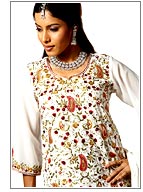 The Salwar kameez is the second most popular Indian dress after saree and is gaining in popularity fast with the younger generation. The Indian salwar kameez too has had many design changes. The new designers have come up with great variations of the Salwar kameez. But then India is a country that believes in the traditional clothes. Inspite of new designs on salwar kameez, women community India still loves to wear traditional Indian Salwar Suit.
Traditional Indian Salwar Kameez has specific design.
Salwar: Salwar or bottom part is a sort of loose Pajama like trouser. In the traditional design, it is wide from top. It has 4 to 5 inches belt attached to rest part of the salwar which is pleated. Upper part of the belt has tunnel for drawstring. Salwar has big room at thigh and calf area. Salwar has almost double bottom size as the circumference of the ankle so as to make proper space for the feet to put inside for wearing.
Kameez: Traditional Kameez is normally long up to knee with wide circumference (Gher) and with full sleeves. It is almost fully covered from the back as back neck line depth like 2-3" and medium low at the front like 6-7" inches as front neck line depth. It is wide or broad at neck like 6-7" inches to put the head into the Kameez. That is, kameez is normally found long upto knee, lengthy sleeves, medium neck and low back depth.
Not only the cut of the salwar kameez, but also the design and pattern makes a difference to the traditional salwar kameez. It is available in all kinds of fabric, colours, patterns and design.
Traditional salwar kameez includes intricate mirrorwork, bead work, zardozi, zari, dabka, kashmiri, kundan, chikankari, phulkari handwork in silver and golden threads and also floral prints and beautiful motifs in checks, rajasthani, batik, bandhej, jaipur and tie dye pattern which give the ethnic look.