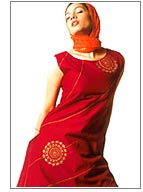 Salwar kameez is the traditional dress worn by various people of south-central Asia. It is the national dress for both men and women in Pakistan and Afghanistan. It is also popular among women in India and Bangladesh.
Though the exact origin of salwar in india is not known, researches have shown its origin during the Mughal invasions in India. Till then, sari was the traditional dress of Indian women. Another stage reached in the history of Indian costumes with the invasions of the Mughals in the 16th century. Persian fashions in clothing entered India, though they never replaced the sari or the dhoti. Both women and men began to sometimes wear trousers with long tunics over them down to their knees. This was called Salwar Kameez.
Essentially a medieval garment the salwar kameez in its original form was brought into the country by the Muslim rulers. Salwar kameez was brought into India as a courtly garment from the central Asian invaders, and slowly became the popular garment of the people of the countryside with the spread of Islam.
The combination of three pieces-Salwar, Kameez and Dupatta forms Salwar Kameez or popularly known as Suit in North India. The kameez or the kurta is a knee-length flowing shirt or tunic worn over salwars. Salwars are loose pajama type trousers. Women generally wore salwar with a long veil or scarf over it called the dupatta or churni.
The salwar kameez has transformed over time. With its descent from the courtly to the everyday costume, it became more localized and the regional dress in the northern parts of the country, like in Punjab and Haryana. With the freedom movement in the country the salwar kameez acquired a more nationalistic and broader base often stretching to other parts of the country. Today the costume is synonymous with the national costume of the country along with the sari.
Why salwar kameez is preferred among Indian women?
It is comfortable. The salwar kameez is one of the most comfortable all weather outfits we have.
It is graceful. There is no denying the fact that the salwar kameez is very graceful and lends the wearer an aura of feminine charm.
Limitless styles and design. It is available in countless designs, materials, sizes and suit all pockets and are easily available.
Size no bar. The salwar kameez is one outfit which will bring out the best in you no matter what your vital statistics is.
Value. Unlike many outfits, salwar kameez can really go anywhere. They can go to formal events, semi-formal events, work, college, parties, dinners, or even just out for shopping. Salwar kurta is most popular among young women who consider it as an easy alternative to saree in their busy schedule. Since it is much easier to board a bus, ride a scooter, run or walk fast in a salwar kameez, it was logical that women stepping out of the house to work would turn to it.