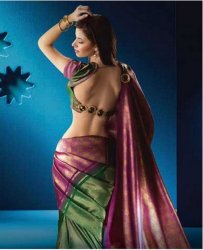 There are many styles of back neck designs of
Indian blouses
available in the market. Fashion designers are always experiment with the neck and back designs. These blouses are very fashionable and stylish. Depending on the taste and preference and age group, there are varied styles to choose from in saree blouses. See the latest trends and cuts in saree blouses in
Latest Saree Blouse Designs
. The blouse designs for back have become very bold and sexy for the young fashionable ladies today. Beautiful necklines and backlines add grace to any simple outfit. If you have a great figure, toned body then go for the bold designs. As already mentioned, right kind of neckline is very important for the look of the entire saree and blouse. One should take care of few factors like body shape, one's choice and confidence level before selecting a bold back neck design.
Scooped U-Back Neck Design
This is one of the classic blouse designs for back. The scooped neck is a U shaped blouse back neck and the the depth of the cut varies according to the wearer's choice. It can be deep U cut or a simply a U cut of decent length. The front is also in u shape and this back neck design is seen in choli blouses.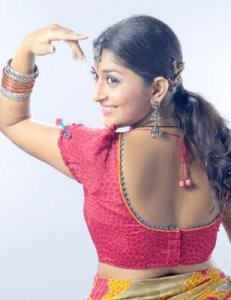 Scooped U-Back Blouse Back Design
Spaghetti Strap Blouse Back Neck Designs
In these blouse designs for back neck, the saree blouse's back is supported by thin, delicate straps also called spaghetti or noodle straps. To add extra glamour, women prefer to wear the straps make of sparkled beads.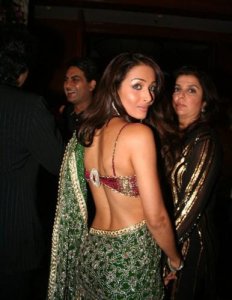 spaghetti strap blouse
Halter Neck Blouse Back Design
The halter neck back design in the front is more or less similar to the back of the blouse as well. It features straps which join at the back of the neck. These blouse designs for back have a very low cut back. A halter neck saree blouse design, with spaghetti strap and back ties adds glamour and beauty to the wearer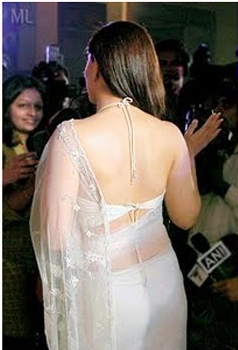 Halter Neck Back Neck Blouse Design
Peeping Tom Blouse Back Neck Design
This style features a cut out in the back of the blouse showing just the right amount of back to make it a very attractive style.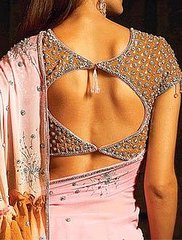 Peeping Tom Back Saree Blouse
The Spider Web Back Neck Blouse Design
Check out the design below where intricate strips of fabric copy the weave of a spider's web. Instead of fabrics, the web design can also be made of beads and jewels strings. It is basically a weave of strings attached to the center. The neck is best kept as a halter.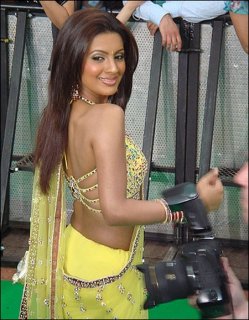 Spider Back Neck Design
The Jewelled Blouse Back Neck Design
Well... this is indeed a very bold design, where almost the entire back is displayed as you simply have some jeweled straps that keep the blouse in place. If you can pull this look ...hats off to you!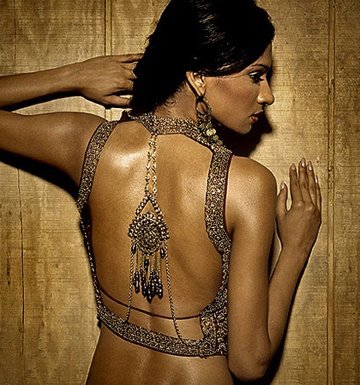 Jewelled Back Neck
Tie-up Choli Back Design
This blouse back neck design consists of thin strips of matching fabric that are used to fasten the blouse. This is a traditional style, previously worn by women in villages which has recently made a comeback.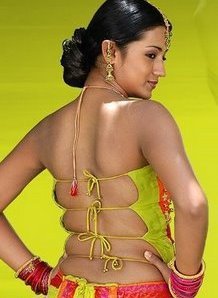 Tie Up Blouse Back Designs
Assymetrical Blouse Back Neck Design
It is one of very unique blouse designs for back, there is different style, on the left and right of the bodice. This style works for the someone who doesn't need to wear a bra. It's quite a modern look and can be played with. the asymmetry of the blouse makes it more dramatic.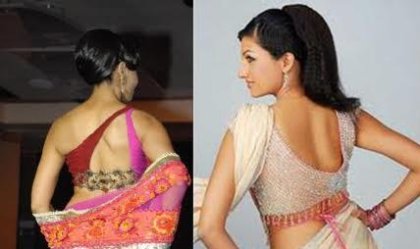 Asymmetrical Blouse Back Designs
One Shoulder Style Back Design
Here the blouse back has a broad sweeping off-the-shoulder style, It looks great with saris and can look extremely elegant.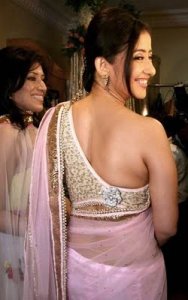 One-shoulder-saree-blouse
Check out more Saree Blouse Designs