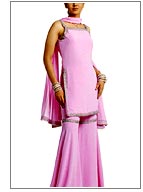 Salwar (Shalwar) kameez is a dress that is popularly worn by people of the Indo-Pak subcontinent (India, Pakistan and Bangladesh). Pakistani salwar kameez are very common in India, but that was introduced by the ancestors of Pakistanis. Some say it is known as the "Pathani Suit" because of the Salwar-Kameez donned Kaabli Pathans of Kabul who introduced this dress here.
Pakistanis have a distinct culture, traditions and customs. Pakistanis and Indians definitely have distinct cultures of their own. Shalwar kameez is the dress commonly worn, both by men and women in Pakistan. Pakistani shalwar kameez is a complete dress, like a trouser-shirt combination-kameez and pakistani salwar combination. Salwar is a pair of thin cotton trousers, baggy but tapered at the ankles. It has a drawstring waist acting as a belt; this string is called Nara or Izaar band in Pakistani language.
In Pakistani salwar kameez, the kameez is long down to the knees, unlike the traditional Indian salwar kameez where the kameez can be of various lengths. Women wear the Pakistani Salwar Kameez in a variety of tasteful colors & designs, and look more fashionable than men do.
Varying from the ethnic touch to the cocktail look, the pakistani salwar kameez has come to suit all occasions. Shalwar kameez has become a dress of choice for ladies in parties, weddings, and formal gatherings in India, Pakistan, Canada, United Kingdom, USA, Australia, Germany and several other countries all over the world.