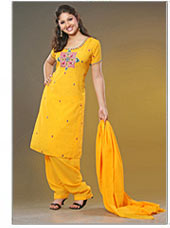 Salwar kameez, sometimes written as shalwar kameez or shalwar qameez is one of the most important traditional dress of South Asian women in countries like India and Pakistan. This women's suit consists of three pieces of clothing- Salwar is the bottom piece of clothing, Kurta is the top and a
dupatta/chunni
which is an accessory taken in different styles with Salwar Kurta suits. Salwar is loose trousers which resembles a pajama.
Salwar
Salwar is loose trousers which resembles a pajama. The legs of traditional salwars are wider at the top which narrow down at the ankle. A salwar ia gathered at the waist and held up by a drawstring. Sometimes an elastic band is also used in place of drawstrings mainly in kids salwar kameez. Many innovations have been made in salwar designs till date. Now the salwar need not necessarily in traditional shape- it can be wide and baggy or more narrow, and even made of fabric cut on the bias which is popularly known as churidar. Other variations of salwar include patiala salwar, parallel salwar, sharara salwar, dhoti salwar, etc.
Kameez
The kurta or kameez included in salwar suits can be defined as a long shirt or a tunic. The traditional kameez has side seams, known as the chaak, which is left open below the waist-line to give the wearer greater freedom of movement. The traditional kameez is usually cut straight and flat. The contemporary kurtas have many types of designs and shapes. It may have deep neclines, cap sleeves, sleeveless kurta designs and many other such variations. Some indo-western salwar kameez have ultra modern looks where they have
short kurtas
. Kurtas may take any form- straight, A-line, empire waist, frock type, anarkali kurtas etc. Sometimes when a kameez is sewn in transparent fabrics, they are worn with a choli or a cropped camisole (a slip type clothing) underneath it.
Dupatta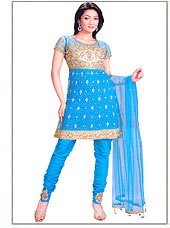 Indian Salwar suits are mostly accompanied with a dupatta or chunni. It can be called a very long scarf. It is used as head cloth to cover heads by some women of North Indian region like in Punjab where it is essential to cover the heads before entering a Gurudwara- the holy place for Sikhs. At other times, dupatta/chunni is a fashion statement used for enhancing the beauty of salwar kameez. It can be worn over one shoulder, draped around the chest and over both shoulders or in other style a woman wants to drape it. Sometimes, salwar kurta sets are worn even without dupattas like in Indo-western salwar suits. One more interesting fact related to dupatta is the invention short dupatta which is often worn with kurtas and Indo-Western clothing.
Types Of Salwar Kameez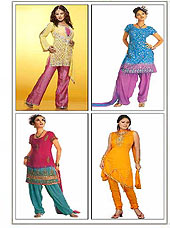 History of Salwar Kameez
Some people believe that salwar kameez dates back to 12th century and owe its origin to Islamic or the Iranian era. It is also believed that during that time, men and women both used to wear salwar kameez as part of their traditional dress. Yet others believe it to have originated in the 16th century in Afghanistan where it was worn by women of higher strata of society. It was invented to keep oneself safe from the dust storms- a regular feature of this country. The Mughals who ruled the South Asian continent in the 17th and 18th centuries did the most to popularize the comfortable and useful salwar kameez attire. However, at that time, salwar kurtas were confined to the Muslim women population only. When the Britishers took over in the late 18th century, salwar kameez took a backseat with the growing popularity of
skirts and shirts
.
Revival of Salwar Kameez
After seeing a downtime for a very long period, salwar kameez were suddenly revived in the late 1950s and the early 1960s, most interestingly by the leading actresses of Hindi film industry. The bollywood actors sizzled the silver screen with all types of innovative salwar suits and churidar kurta. Young girls and women started replacing their
traditional Indian sarees
with salwar suits designed according to the latest fashion defined by the Bollywood actresses. These were named Bollywood suit that never lost its status again among the masses.
Popularity of Salwar Kameez
Initially, salwar kameez was popular in the North India, particularly in the states of Kashmir and Punjab only. It was not earlier than 1980s when it started spreading across India. It was also accepted in the South Indian states like Tamil Nadu by replacing its traditional dress pavadi and thavani- or the
blouse
and half-sari- as daily wear of common woman. Salwar suits are now worn in each and every state of India, in urban as well as rural areas- however, in its various types, forms and designs.