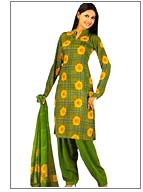 Salwar kameez has undergone various changes in its shape and designs over the years. As times and fashions change, so do the syles of salwar kameezs of India. Although the traditional salwar kurta is still the most popular among most women, there are some variations in cuts that have gained in popularity over the years. There are designer salwar suits available higlighting the latest trends. You can check out the various types of
salwar kameez, salwar types, salwar kameez designs, designer salwar suits
below so as to get a better idea of salwar suits and what style suits you:
The various types of Salwar Kameez are:
The most used variety of salwar kameez- the Punjabi suit has traditional designs – a long kurta, salwar made with lots of fabric to give large circumference and a matching dupatta...
More
It has a legging that looks like a tight pant. The churidar is long than traditional salwars. As such, when worn, the lower end of the pants roll up in shape of many bangles or 'churis' and thus the name churidar...
More
A parallel salwar has straight cuts just like normal pants. It is different from traditional salwar which has wider upper portion and narrower lower portion. The parallel salwar has similar width for whole length of the salwar...
More
A patiala salwar is made from much more cloth than traditional salwar. It has many pleats that gather at the waistline and drape below gracefully, giving a beautiful appearance to the salwar...
More
"Pathani Suit" got its name because it was originally worn by the Kaabli Pathans of Kabul. It is traditionally a mens dress where the salwar has the traditional form and kurta is longer enough to cover the knees of the wearer. The neck line of kurta has collars and it has long sleeves too. Women's dresses that has such a form is called Pakistani or Pathani salwar kameez.
More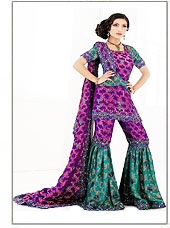 Sharara salwar has wider leg pants that has similarity with full skirts. The pants are fitted till the knee, with a big flare from the knee onwards or a kind of loose, trailing pajama. It looks like a lehenga at the lower part but has lesser circumference to make it a sharara....
Sharara Salwar Kameez
More
Any salwar kameez that is made according to the specifications of an individual purchaser is the customized salwar kameez.
Salwar Kameez can further be classified on the basis of design, fabric and occasion.
Check out the Latest Styles in Salwar Kameez