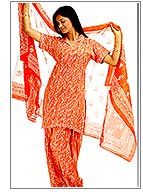 One of the most prominent methods to decorate any fabric is to get them printed. Indian salwar kameez are one of the most successful evergreen attire of Indian sub-continent. Indian salwar kameez suits are available in many types. One of the most famous and common type of salwar suit is the Printed salwar kameez. Printed salwar kameezes have won lot of appreciation in the fashion market.
Fabric
Printed salwar suit look good in fabrics cotton, silk, georgette, chiffon, crepe, handloom etc.
Design
Printed salwar kameezes have a lot of interesting patterns. Tie and Dye print is in fashion trend. Block print, flowery print, paisely design print, geometrical, abstract prints, ornamental designs are some of the prints used in making lady salwar suit. Even traditional prints like Patola print, Polka dot print, Kantha print, Jaal printed, Meenakari printing etc. are done to give the traditional look. Printed salwar suits can also have these popular and classic designs with an array of detail work like embroidery, patti, mirror, zori and sequins work to give a more ethnic look which can be worn for marriage and formal occasions.
Various methods of printing like direct printing, resist printing and screen-printing are practiced in India. It is not necessary that both salwar and kameez have to be printed. Sometimes either of them is printed. Most time it is the kameez, which is printed, and the salwar is in contrast color. Printed Salwar suit is available both in stitched and unstitched forms. Available in various styles, patterns and colors, the printed salwar kameez is soft and classy in looks. Printed salwar suits give an attractive look to anyone who wears it.