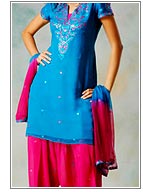 Custom made salwar kameez means sewing salwar kameez according to the specifications of an individual purchaser.
One of Indian women's most desired, traditional and comfortable clothing is Salwar Kameez. Styles of salwar kameez varies from simple to complex in respect of all material, design, durability, quality, look and feel etc. The popularity and comfort of the salwar kameez has reached such stupendous heights that most of the new breed designers have started channelizing a major portion of their creative abilities to give this ensemble a new look. Varying from the ethnic touch to the cocktail look, the salwar kameez has come to suit all occasions and what could be better and more creative than adaptation of various styles on salwar kameez.
Because of the popularity of salwar kurta among women who consider it as an easy alternative to saree in their busy schedule, unstiched fabric of all types is available in the Indian market to fit any budget and salwar kameez are custom made to give a good fit. Made to order Salwar Kameez or custom or tailored salwar kameez has many advantages:
You can choose any color.
You can choose any size including plus, petite, misses, junior, maternity, teens, kids, regular and custom.
You can choose any fabrics mentioned.
You can choose any style for sleeves whether short, long, three-quarter or sleeveless.

You can choose any length: Hip length, Mid thigh, Knee length or Mid calf length.
You are free to choose any style of salwars (whether churidars, parallel, straight leg, baggy, pants, trousers, traditional, patiala, punjabi, western, bell-bottom, boot-cut etc.)
The choice is absolutely yours.