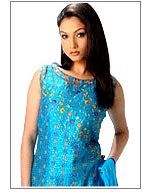 Since salwar kameez is the most common and popular wear of almost all Indian women, there are various types of salwar kameez available in the Indian market depending on the season. Seasons come and go and what keeps pace with them is clothes. India is known for its extreme climates. Accordingly, the dresses of the people change. It is not possible to wear a heavy embroidered silk salwar suit in summer or a cool cotton salwar suit in winter. Accordingly, Indian ladies collection of salwar suits comprise different varieties depending on the season.
For example:
When we talk of summer, we need to wear something which is light and confortable. Summer salwar kameez should be soft, comfortable, easily manageable. As such, cotton, lizi-bizi, organza are the most favoured fabric for salwar kameez. These can be used both for daily wear and office and college wear and evening wear. For parties and other formal occasions, chiffon or georgette salwar kameez is preferred. These salwar kameezs are available in designs ranging from ethnic chic to traditional to modern prints. Khadi or handloom cotton kurtas are very popular with white or black churidar.
For winter wear, synthetics and heavy silk salwar kameezs are preferred. These salwar kameezs are generally in dark colours as dark colours absorb heat. The dark coloured silk and synthetic salwar kameez make the breezes bearable in winters.
The spring and the autumn are the best seasons in the year. These seasons are neither cold nor hot but very pleasant. In such seasons, the salwar kameez can be of any fabric from from cotton to silk, to chiffon to georgette with variety of patterns and designs on it. Since certain festivals are celebrated during these seasons, many fancy, designer, embroidered salwar, salwar kameezs with zari work are all available during this time.