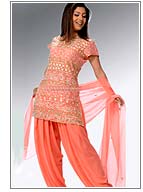 Bollywood is the informal name given to the popular Mumbai-based Hindi language film industry in India. Today for the fashion conscious people, Bollywood offers an opportunity to bring a part of the Bollywood style into their own world. Style-struck Indians are embracing Bollywood style. From saris to salwar kameez, traditional clothing and style is continually being altered with a western twist in bollywood.
Salwar Kameez Endorsed By Bollywood & Hollywood Celebrities
International celebrities like Jeniffer Lopez, Late Princess Diana, Goldie Hawn, Hillary Clinton, Chelsey Clinton, Elizabeth Hurley, Anna Kournikova, Madonna, Sharon Stone, Jemina Khan have adorned this graceful Indian Dress at high profile social, music, hollywood and fashion events. This 'fusion wear' garment is clearly the flavor of choice in the West and also the designer choice for the World's Hottest Fashion Designers. Along with sari, Indian salwar kameez are also worn by the leading Indian actresses in films and social functions.
Design
Various Indian designers have come with innovative designs for bollywood salwar kameez which gives a different look if compared to the regular ones.
Bunty or bubli salwar suits
The latest, inspired by one of the most refreshingly different film from Bollywood in recent times, is a colourful collection that is both unique and definitive. These outfits display the characteristics of a person who is vivacious, bold in dressing style and mannerisms and with a cheerful disposition, much like the character of Bubli played by Rani Mukherji. This collection can also be considered as a tribute to the latest bling fashion with dazzling embroidery on a Chinese style collar, which is creating quite a stir all over the fashion capitals. Designed salwar kameez for bollywood, are outstanding, with beautiful colour contrasts, prints, elaborate sequin and bead work. It is fair to say that despite numerous fashion forecasts by leading national and international designers, the larger than life Hindi Films are the last word on fashion.