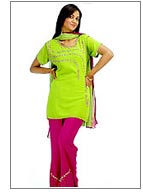 From time to time new names and styles were introduced in the Indian salwar kameez market. Salwar Kameez is a basic pattern of traditional North Indian dress. As fashion grew in the new era, the designing, styles and the shapes of the basic pattern has changed. Parallel suits are an updated version of the salwar kameez, very popular among the younger generations of Indian women and many Non-Indian women as well. They are also known as a trouser suit or pant suit in Indian fashion clothing.
What is Parallel Salwar Suit?
The difference between the parallel suit and salwar kameez suit is in the cut and style of the parallel suit. Parallel salwar look like normal pants. Parallel is like pant with narrow front belt, back elastic and side chain or full elastic. Parallel salwar kameez has wide room at upper and wide bottom like pant. The bottom of the pant may vary from small flair to a wider one. The pants are parallel with side slits at bottom. These pants can also have front slits at bottom. Parallel salwar kameez is also comfortable to wear like Indian salwar kameez.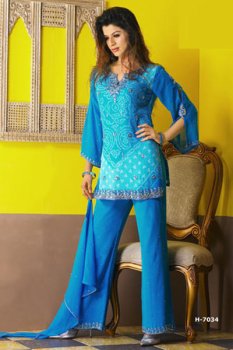 Designs of Parallel Salwar Suits
The pant is often embroidered along the leg or ankle. The top is much shorter than a traditional kameez, and is usually worn above the knee or right at the top of the knee. These suits can also be sleeveless. The designing of the whole outfit can take different styles like embroidery on the neck, on sleeves, on front panel of the kameez or on the bottom of the pant. This style of suit can be found without a dupatta as well. There could be different fabric and color combination, sleeveless to full sleeve length, short kameez to kameez length upto knee.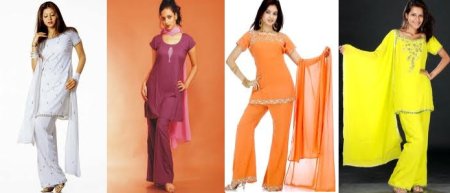 Send Online Enquiry for wholesale purchase of Parallel Salwar Suits
You Might Also be Interested In