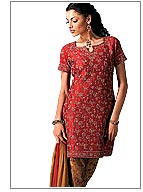 Chiffon salwar kameez have won lot of appreciation in the fashion market. Available in various styles, patterns and colors, the chiffon salwar is soft, warm and classy in looks. This dress gives an attractive look to anyone who wears it and is suitable for all kinds of occasions.
Fabric
The chiffon fabric is widely used in Indian fashionable salwar kameez. Chiffon is a lightweight material with a slightly rough feel to it. It can be made from cotton, silk or synthetic fibers, but is usually associated with silk or nylon and can be dyed to almost any shade you like. Under a magnifying glass it resembles a fine net or mesh which allows chiffon to have this see-through property.
Design
Chiffon salwar kameez come in variety of colours and designs. The most popular ones are the printed ones with eye catching designs and traditional patterns. Bandhani prints based on ancient regional Indian design are used on chiffon salwar kameez. Hand block prints are also very popular. Chiffon sarees with resham work done on them increases the beauty of any lady who wears it. Gold metallic embroidery increases the look of a chiffon salwar suits/shalwar kameez. Even the self coloured plain ones are attractive. Chiffon salwar suits are light and airy, and give soft and romantic feeling.