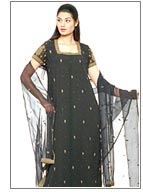 Satin is a fabric that typically has a glossy surface and a dull back. Satin has a luxurious, rich and glossy feel. Satin fabric was meant for bridal gowns and wedding dresses. Today, the fashion evolution has taken it a step further and satin is fast gaining ground in the fashion world.
Generally used as a lining material, satin fabric is also used to make Indian dresses. Indian satin salwar kameezs have become popular since satin is versatile and can carry considerable embroidery weight. The satin fabric reigns supreme and the beauty of this fabric is emphasised with the different shades of colours available. Colours, like plain pink, yellow, wine, lemon, lilac, black, green makes one stand out in the crowd. Various designs available on satin salwars like golden zardozi, stones and beads embroidery, resham embroidery and so on. Whatever the design, colour of such salwar kameez, the very rich and glossy feel of the fabric make satin salwar kameez very beautiful and gorgeous.
What makes the fabric dynamic is that the styles are always breathtaking and trendy. You try to feel the allure of satin, either in long or knee length salwar kameez and the effect is often stunning. Satin salwar kameez have become popular in weddings and parties. No wonder, women of glamour and style now make use of satin because it comes out cool and beautiful.