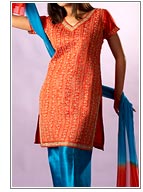 Salwar Kurta is the most popular, comfortable, convenient and widely worn dress in India. It is popular among women in India, Pakistan and Bangladesh and often worn in Afghanistan. Some versions are sometimes called a Punjabi suit, after the Indus valley area called the Punjab. In India, this was traditionally a
Punjabi dress for women
, but is now worn almost everywhere by all Indian women. Punjabi suits or salwar kurta define the latest trend in Indian fashion garment.
What is a Salwar Kurta or a Salwar Kameez?
A salwar kurta has 3 parts in its creations:
Salwar: Salwars are loose pajama-like trousers. The legs are wide at the top, and narrow at the bottom. The legs are pleated or gathered into a waistband with a drawstring. In salwars, the legs are wide which tapers slightly towards the ankles. Traditional Salwar is very comfortable to wear and has lot of space for legs movement.
Kurta: The kameez or the kurta is a knee-length flowing shirt or tunic worn over a salwar or churidar. The side seams are left open below the navel, which gives the wearer greater freedom of movement. The tailor's taste and skill are usually displayed in the shape of the neckline and the decoration of the kurta. Traditionally, the kurtas were knee length. But today, short kurtas are also available.

Dupatta: A dupatta generally completes the ensemble. When women wear the salwar kameez, they usually wear a long scarf or shawl called a dupatta around the head or neck. In ancient time women used to put cloth on their heads for cultural, religious and practical reasons. Gradually this became a part of fashion as well. Today, the dupatta is a stylish accessory that can be worn over one shoulder or draped around the chest and over both shoulders.
Fabric
Silk
Cotton
Chiffon
Crepe
Lizi Bizi
Georgette
Voile
Satin
Organza and several other fabrics
Design
Styles of salwar kurta varies from simple to complex in respect of all material, design, durability, quality, look and feel etc. The designs on salwar kurtas are many and varied.
These are available in an array of colors, styles and patterns. They can be plain, printed and embroidered. The styles are in conservative styling as well as Indo Western styles. These sets may have embroidery work in silk thread or a combination of bead work and zardosi, sequins, patch work, etc.
Traditional Kurta is generally long with full sleeves, half sleeves or sleeveless and is mostly up to knee length and can be more than this also. As the creation took place in modern era, the meaning, style and shape of Kurta or Kameez has changed. Short Kameez, Kurti upto hips, are popular these days. The quality and designs vary from a simple one to designer's creation. The choice is endless. You can choose any style and length for sleeves as well-whether short, long, or sleeveless. Various designs are available for necklines for the Kurta as well which can give a different look to the same salwar kurta.