March 9, 2010- Churidar kurta has now been accepted as a formal dress by the Indian women for all occasions. Along with the comfort and style of wearing a churidar kurta, it has proved itself to be fit for the figure and structure of Indian women. The basic
churidar designs
with lots of gathers at the ankle itself gives a slim look. However, careful selection of kameez designs in a churidar kurta set go a long way to make the wearer look more slim and slender. Perfect kurta designs matched with exactly the right churidar can be a dream fulfilled for womens plus size clothing as these women with extra inches, are always bothered about how to look slim! Here are some churidar kameez designs for you to understand the basic principles for looking slim in churidar kurta.
how-to-drape-saree-different-ways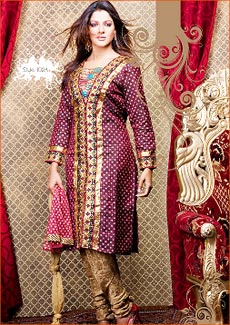 Churidar Kameez Design
Heavy fabrics have always eluded the plus size women but with a design that hides that flab, a plus size woman can always wear a brocade churidar kurta or other heavy fabrics. Look at the kurta design in this picture. The golden broad strip in the middle of the kurta divides the attention of onlooker. In other words, your bulky body will not be seen or noticed at once as the main fabric is divided by the middle portion. Also a larger than normal deep V neck further grants a slender look to the upper body. Long sleeves of the kurta makes your arm look long and slim.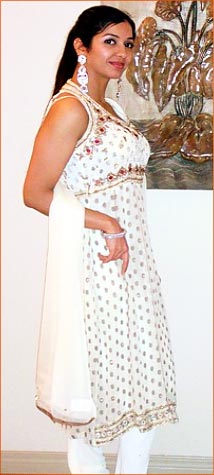 Empire Waist Churidar Kurta
Empire cut has always been friendly for plus size women. Look at this kurta design made in banarasi georgette with a high empire waist flared kurta. Matched with halter neck, this kameez design looks glamorous and makes the lady look slim. If you have been blessed with arms that are not too fat (in spite of your being plus size), you can go for a sleeve less kameez otherwise try some sheer transparent fabric for long sleeves that will make your arms look slim as well as compensate for not wearing a sleeveless kurta. Long kurtas are always good for looking slim. This particular kameez design is also embellished with red and golden sequins and stones embroidered, bordering neckline arms and waistline.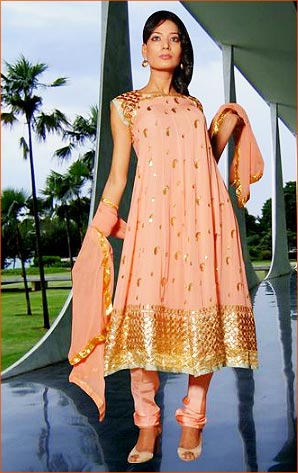 Anarkali Churidar Kurta
This is an innovative kameez design for anarkali churidar kurta set. Anarkali salwar kameez, that essentially have empire-waist kurtas, are the latest trend in Indian fashion. They flatter every figure and this particular kurta with ultra high waist (actually it doesn't have a waist which merges with the neckline itself) gives a very slimming effect to the wearer. It accentuates at the top and cover up any flaws in the waist and hips making them almost disappear. The long kurta with mid-calf length and designer sleeves (that give an impression of sleeveless kurta) makes the woman more attractive.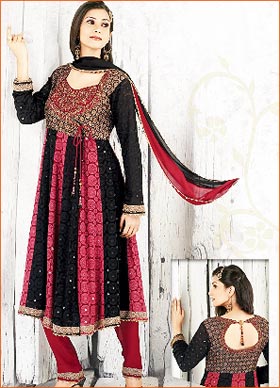 Designer Churidar Kurta
This is yet another anarkali churidar but with paneled kurta this time. The combination of maroon and black panels below the empire waist divides the body bulk in many parts hiding the extra flab and giving impression of being slim. Black color long sleeves have been used to make the arms slim and slender. And if any woman has extra flab at back, the back of the kurta can be designed with some neck design that will again divide the attention. Here a string back is used to design the back of kurta.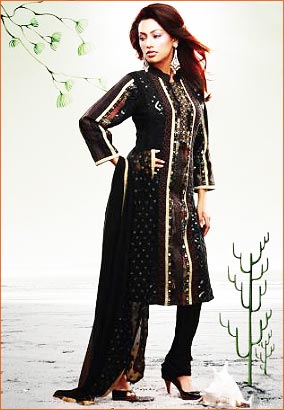 Black Churidar Kurta
Black is perhaps the favorite color of plus size women. It is like a magic how black color makes the wearer look slim all along! Look at this shirt style beautiful black kameez design with embroidery all over the front panel. Vertical panel at the front comprising of patchwork with golden trims further adds to the slimming effect granted by the black color.