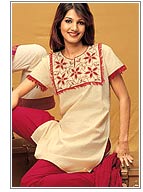 Churidar Kameez is not exactly like a traditional salwar kameez. To give a different look and feel to salwar, the churidar was designed by the traditional designers which became popular in the modern age. A churidar is similar to the salwar but is tighter fitting at the hips, thighs and ankles more like leggings.
What is a Churidar and what is the difference between Salwar and Churidar?
The churidar is actually pants made in such a way that it is tight from the knee down and loose and comfortable from the knee up. It is tied at the waist with draw strings. It is worn very similar to draw string pants but the legs are tapered.
The basic difference between salwar and a churidar is that salwar is a loose pajama-like trousers while the churidar is a tight-fitting trouser which gathers at the ankles. What is special about them is that they are longer than the legs. Their extremes are crinkled and crumpled to fit. Creases thus developed resemble 'churis' or bangles, hence the name churidar kameez.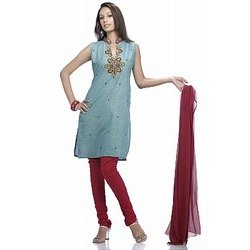 Churidar Kurta
Fabrics in Churidar Kurta
Churidar kurta sets are stitched in different types of fabric: silk, cotton, chiffon, georgette, and so on.
Designs in Churidar Kurta
There are variety of designs of churidar kurta. Traditionally, the kurta was long, below the knee. Today, the short kurta and churidar which looks very elegant and is in fashion too. With the changing times the style and shape of the kurta varies from simple one to very jazzy look. There are different neck shapes, neck depth and kameez length available in so called modern Kameez. Some of them are simple and plain with a multicoloured churni. There are mix and match combinations of the kurta and the churidar. Some of them come with heavy embroidery and rich designs which are usually worn on special occasions.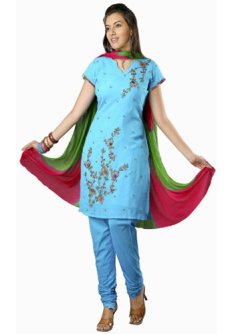 Churidar Kurta Designs
Send ONLINE ENQUIRY for wholesale purchase of Churidar kurtas, churidar kameez
There are varied styles available in churidar like churidar with elastic belt, drawstring, hooks and chains on sides and with embroidery in the bottom with/without hooks.
These days churidar kurta is most popular among young women who consider it as an easy alternative to saree in their busy schedule. It is easy to wear yet modest and very versatile when jumping into crowded buses and trains in India.
A churidar is also a perfect accompaniment to long kurtas and sherwanis for men. Infact, churidar kurta is a common dress worn by the North Indian groom. By the sixteenth century, the tight churidar pyjama became the staple attire of a Kathak dancer.
Thus, one of Indian women's most desired, traditional and comfortable clothing is Churidar Kurta. Like, there are no parameters in any kind of commodity, similarly styles of churidar kurta varies from simple to complex in respect of all material, design, durability, quality, look and feel etc.
Related Articles & Photo Gallery
-
Ladies Kurti
-
Churidar Suits Give Dash To All Figures
-
Churidar Kurta Designs to Look Slim!
-
Churidar Kurta Neck Designs- Latest Trends
-
Celebrating Festivities with Anarkali Suits (Photo Gallery)
-
Churidar Designs Photo Gallery
-
Latest Indian Kurti Designs Photo Gallery