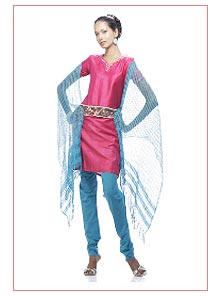 Indian women have accepted
salwar kameez
for various reasons. The first among these reasons is the comfort granted by
traditional salwar suits
. However, there are certain limitations with the traditional salwar- just with the lower garment meant for covering legs. Plus size women do not see it as figure friendly. The flare of a salwar make them look more bigger in size. Some other fashion conscious women do not find the flaring salwar trendy.
As such,
churidar designs
- the tighter version of salwar which resembles tight narrow pants- have become the favorite clothing of many women, especially of the young girls. Before proceeding to know the latest trends and design patterns of churidars, let's see why the churidars are preferred over salwars by the young women of India.
Salwar v/s Churidar
A salwar is, no doubt, the most comfortable women clothing in India. The reasons being the amount of fabric used in it (
patiala salwar suit
being the extreme example) and the security it provides (by not shifting here and there and also by not revealing any body parts). However, many women think that salwar is not stylish or trendy. It doesn't present the wearer as a fashionable personality perhaps due to the 'so called lousy look' that it gives. These women like to wear churidar for its stylish look. When worn, churidar at once gives a crispy appearance to the wearer's personality. However, due to the tight fitting, churidar is not as comfortable as a salwar is. Then what do these ladies do?
Traditional Churidar Design
Traditionally, women of India have always preferred custom or tailored salwar kameez. However, most of the time, the tailored churidars do not give the desired look- they are either very loose or very tight. If loose, they mar the whole appearance of the salwar suit set. If tight, they become more uncomfortable to wear. Most of the women have to bend down or sit on ground while following certain Indian traditions- like in temples or while touching feet of elderly persons. So, when a new bride bends to touch feet of her father or mother-in-law wearing a bridal
churidar kurta
, she has to experience a whole lot of difficulties. These difficulties have gradually taught the Indian woman to accept the ready to wear designer churidar kurta.
Modern Churidar Patterns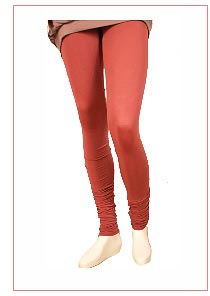 Now the question is how the ready to wear modern churidars are different from the traditional churidars? The readymade garments industry has taken big steps in producing clothes of all sizes and measurements that fit all types of figures- from small petite women to large size women. Fabrics too have seen changes- now there are not only cotton or silk churidar kurta but lots of more options like churidars made from lycra, organic cotton and many other types of fabrics. The manufacturers see to the fact that the churis or the bangle like gatherings at the lower end of churidar stay intact in all churidar designs. And what's more interesting is the introduction of various new styles and embellishments in the churidar patterns.
Legging Churidars-
This is the most prevalent trends in churidars these days. These churidar leggings are a slightly moderated versions of women's tights. They are made from various sretchable fabrics including stretchable cotton, lycra etc. They differ from traditional women leggings in their length- which is more than standard leggings. They differ from churidars too in the sense that they do not have any drawstrings. They are easy-to-wear. However, when worn, they look just like churidars. So, without the uncomfortable feeling, women wear these churidar leggings to get the typical style of churidar!
Adjustable Churidars-
The preference of women differ in clothings too. Some of them like to wear churidars that are extra tight and others like wearing somewhat lose churidars but without compromising with looks. Readymade churidar manufacturers have solution for this too. The latest churidar designs available on the racks of branded clothing stores have press buttons at the lower ends of the churidar which are sewn in a way that they are not visible. If the wearer wants tight gatherings on her churidar she can press close the buttons and if not, she can let it stay open!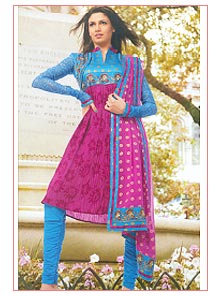 Stitched Churidars-
Latest churidar designs have gone a step further. They have gone designer- with designs on churis or gatherings of the churidar. Here the gatherings are not left lose to be made while wearing. They are stitched to give the shape of churis or bangles and are embellished with various trims- beads, sequins, and other decorative accessories. These churidar designs are apt for wearing as
formal wear churidar kurta
.
Innovations never stop. These were only some of the churidar desings that are the latest craze of Indian women. The garment companies and their designers must be in the process of introducing some new churidar patterns. Till then, you can select one or multiple churidars from among available designs to wear with your kurtas!