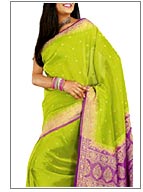 An important political and cultural centre situated in Madhya Pradesh, Maheshwar is famous for a particular type of saree called Maheshwari saree, which is a speciality of this city. The Maheshwari saris are famous throughout India for their unique style of harmonious balance between the border and the body of the saree. The grace and elegance of these sarees is hard to match.
The Maheshwari saree is popular for its strength, elasticity and a unique luster of the fabric. The use of zari and particular texture and sheen of the zari threads used in the making of Maheshwari saree gives it a unique identity amongst all the Indian sarees. These saree are a much coveted item even in time as far back as 18th century India. The Maheshwari saree has a royal origin as it was first designed for austere queen Ahilya Bai who lived in Maheshwar and even today the saree held its royal patronage.
Fabric in Maheshwari Sarees
The Maheshwari saree is woven mostly in cotton and silk. The saree woven from pure silk, is famous for its strength, elasticity and luster of the silk fabric . Nowadays these sarees are made in natural and artificial silk as well.
Maheshwari Saree Colors
Depicting the nature in its fullest fruity and best forms, the Maheshwari sarees are available in various colorful hues and shades like as
Angoori (grape green)
Rani (deep mauve pink)
Dalimbi (deep pink)
Gul Bakhshi (magenta)
Jaamla (purple)
Dhaani (green)
Kaasni (light violet)
Chintamani (peacock blue)
Aamrak (golden)
Tapkeeree (deep brown) etc.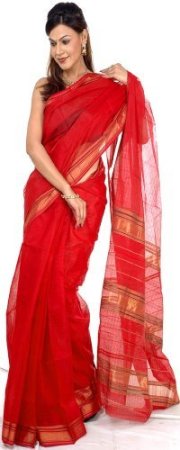 Maheshwari Saree
Maheshwari Saree Designs and Motifs
The typical Maheshwari saree is either chequered, plain or has stripes, combined with complementary colours. These sarees have a trademark border and pallu, setting them apart from the Paithani, Patola, Kancheepuram and the rest. Originally, the pallu is particularly distinctive with 5 strips, 3 coloured and two white alternating, running along its width. The reversible border of the saree known as bugdi which can be worn either side, is a speciality. It has a variety of leaves and flowers on the border, in karnphool pattern, which is quite popular.
The use of zari and kinari is also unique to the Maheshwari saree. Exotic motifs are woven using the golden zari thread body, border and the pallu of the saree. Common motifs found in these sarees are Aambuta, Ghunggroo, Guldasta, Bel phool, Jai phool, Chatai kinar, Mayur, Baila Ankhi, Hansa, Ambi Buti, Chandtara etc.
These sarees were highly patronized in the royal house and worn by the queens and the princesses of the region. Today, the expert weavers of th small town Maheshwar, are retaining the original beauty and grandeur of these sarees, to increase its appeal in a market of changing and varied tastes and the exquisite Maheshwari saree is available to all those women who appreciate beauty and elegance. They are ideal to be worn in a marriage, a festival or a formal party.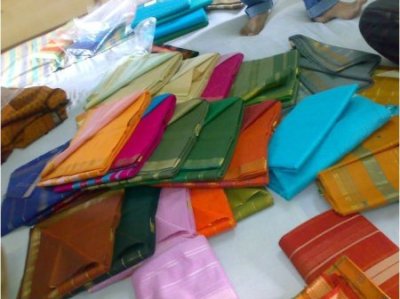 Are you Looking for Maheshwari Sarees? Send ONLINE ENQUIRY for wholesale purchase of Maheshwari Sarees, Maheshwari Silk Saris, Indian Maheshwari Sarees, Indian Sarees