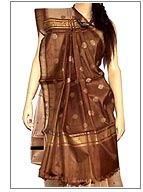 The state of Madhya Pradesh is also famous for Tussar silk sarees. Tussar silk, also known as kosa silk, is known for its texture, high quality and purity. Tussar sarees woven out this kosa silk, has been coveted and sought by almost all women in India and abroad. Kosa silk is derived from the cocoons of the Saja, Sal and Arjun trees. The Tussar silk sarees in their wide variety of colors and prints have been a favourite choice for formal occasions.
Colors of Tussar Silk Sarees
Tussar silk is a special variety of silk, as the cocoons are raised on Arjun and Sal trees. They come in a range of colors like in shades of gold-pale, honey, tawny, dark, beige, creamy, etc. Some coomon colors found in the tussar or kosa sarees are light green, deep blue, black, deep purple, purple, deep rose red, maroon, bright red, orange, yellow, pink, mauve pink, turquoise, etc. Tussar sarees are considered auspicious for special occasionas like marriages, religious functions. In such occasions, Indian women prefer to wear the original rich gold shade Tussar saree. Originally only natural dyes were used like as palaas flame of the forest to give the yellow color, the rich red pollen dust of the Rora Flower, the Kusum Flower, or the deep rose red from Lac. But with time the colour range, motifs and prints have changed.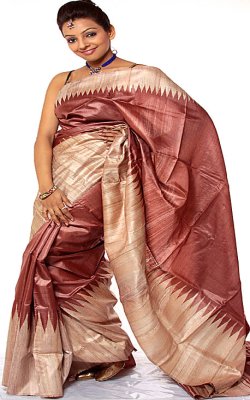 Tussar Silk Saree/Kosa Silk Saree
Tussar Silk Sarees Designs and Styles
The motifs and the patterns continuously refer to nature and daily life and they are carefully chosen to enhance the beauty of gorgeous Tussar silk sari. The traditional block-printed tussar sarees are very unique and very ethnic. Some poplular motifs in Tussar sarees are Chicholi Phool, Crown Phool, Phulia, Rui Phool, Chitpat, Kangoora, Karan Phool, Mandir, Ghungroo, Sankari, Janjeer, Motim Chowk Choor, Singhaulia, Chowkda, Bhaonrai, Chatai, Karvat, etc. These motifs have been coined by the weavers themselves and using the gorgeous natural silk, the motifs are beautifully crafted or woven on these saris. The Tussar Saree looks simply goregeous because of its rich texture and vibrant hues. Apart from the saree itself, the kosa silk is also used to make other dresses.
The Tussar sarees radiate a natural brilliance due to the fibre used. In some Tussar silk sarees, brocade work is done with Zari to give them an ornate look. In some, the pallus and borders of the sari is woven with thread, coloured in the Ikat style to give a designer touch.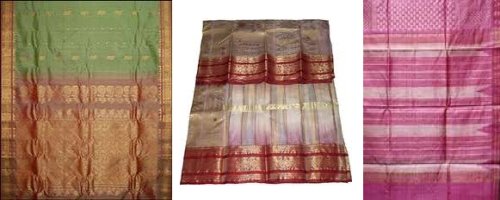 Are you Looking for Tussar Sarees? Send ONLINE ENQUIRY for wholesale purchase of Tussar Sarees, Tussar Silk Saris, Kosa Sarees, Indian Tussar Saris