19 April 2010- This is a common saying among the Indian women that a saree blouse design is the crucial factor for bringing out the beauty of any saree. This is perhaps the reason why they have all types of matching blouses to wear with each and every saree in their wardrobe. However, plus size women, usually fat women, do not dare to stuff saree blouses of 'just any kind' to go with their designer sarees. This is because not all saree blouse styles will suit them due to their flabby body type. However, this again does not mean that they can not wear a designer blouse. Of course, womens plus size blouse can be glamorous too. What is needed is a careful selection of saree blouse designs. So, here we present some tips on saree blouse designs for plus size women. Get basic ideas for how to design
womens plus size blouses and look beautiful
in spite of those extra fat on your body!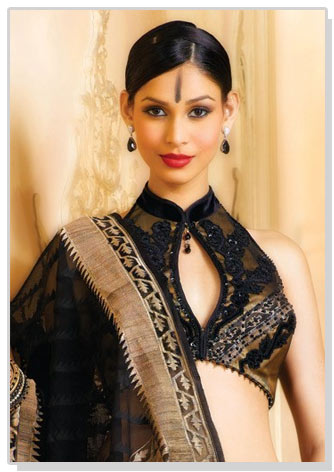 Black Saree Blouse
V-Neck Saree Blouse Design for Plus Size Women
V necks are the classic blouse neck patterns that can make you look a little slimmer than you are! If your upper body portion is heavier then go for a V-neck saree blouse pattern and see how eyes turn towards you. If you want, you can make the saree blouse back too with a V shape. This will grant you a more slimmer look. And if you match your V-neck blouse pattern with long sleeves, nothing better than that!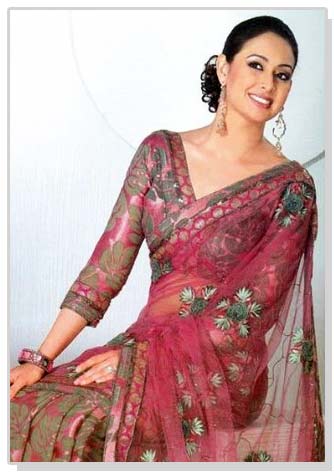 V-neck womens plus size blouse
Long Sleeves Saree Blouse Design for Plus Size Women
If you have those fat arms that you worry so much to show off, just get stitched a long sleeve blouse to go with your designer saree. Length of the sleeve of your saree blouse depends upon your choice- it can be full sleeve that goes down to your wrist or it can be a slightly longer than the normal saree blouse sleeve i.e till or a little above your elbow. The best suited sleeve length for saree blouse design for fat women, however, is the one that is mid way between the wrist and the elbow.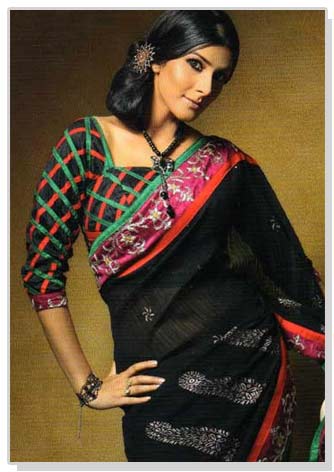 Long Sleeve Blouse
Wide Neck Blouse Design for Plus Size Women
There is one more trick to give yourself a slimmer look other than the V-neck saree blouse design pattern and that is the wide neck blouse. A wider neck in a womens plus size blouse, in fact, saves you from hiding the flab around your neck inappropriately. Most of the times, this is the reason why women look more fat than they are- hiding their fat unsuccessfully below too much cloth!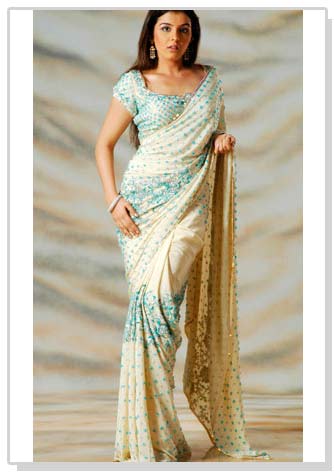 Wide Neck Blouse Design
Choli Style Saree Blouse Design for Plus Size Women
If your back is heavier than your front upper body than go for a choli style saree blouse pattern with a backless blouse design. It can also be a stringed back or some other blouse design that barely covers your back. Keep such blouse a little longer than the usual saree blouse length.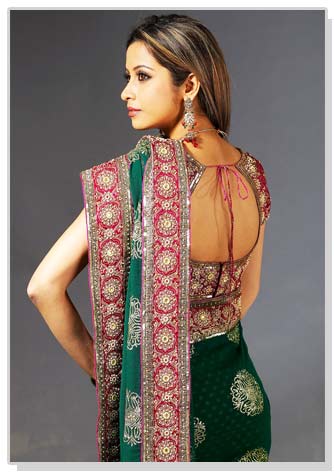 Choli Style Saree Blouse Back
---
Not only womens plus size blouses can make a difference in how plus size women look in their sarees but even the choice of sarees is important. Know What Saree to Wear For Your Body Type?
---