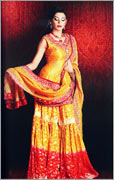 Sharara is basically an ethnic clothing worn by Muslim women. It was brought to India by Mughals. It can be called one of the many types of ghagra or lehnga choli. However, there is a major difference between
lehengas
and sharara. While lengha is in the shape of long skirt with a wide flare at the bottom, sharara is divided into two parts and can be called wide legged pants that are fitted till the knee, with a big flare from knee onwards.
The flare of sharara gives the impression of a full skirt.
Difference Between Lehnga and Sharara
While lehnga is a full fledged skirt, sharara is divided into two parts. Apart from this basic difference between lehnga and sharara, there are some other differences too. Lehnga is traditionally worn with a choli or a
blouse
and perhaps therefore it is commonly referred to as lehnga choli. On the other hand, the original Pakistani sharara is worn with
short kurtas
that are long enough to cover the upper body till where the legs begin. Sometimes, the length of kurtas is more which could end at knees or below that too. However, Indian sharara has been modified according to the local traditional choices and is popularly worn with choli also. Both, lehnga choli and sharara kurta are accompanied by
Dupatta/ Chunnis
.
Popular Types of Sharara
Sharara is not used as a daily wear in India like other clothings such as
Indian sarees
and
salwar kameez
. They are reserved for special occasions and parties.
Wedding Sharara:
Sharara is the traditional bridal dress of Muslim women. Although the traditional wedding dress for Indian brides are
bridal sarees
and
bridal lehenga choli
, wedding sharara is also seen as the attire of many Indian muslim bride though the most common muslim bridal wear is still the
bridal salwar kameez
. These shararas have rich hand works on them like zardosi, resham work, mirror work etc. Dupattas are also very heavy in rich fabrics like brocade and satin with detailed embroidery and zari works among other embellisments.
Designer Sharara: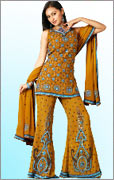 The designer sharara is a little less worked upon as compared to the bridal sharara. However, there glamor seems to be more. They are made with royal fabrics like Georgette, satin, silk etc. and embellished with embroidery, zari work, sequins and other trims. Designer shararas are mostly worn for formal parties like birthdays and wedding parties. They are particularly liked by the close friends and family of the bride.
Sharara Suit:
As for other forms of clothing, experiments are done with sharara too. One of such experiments resulted in
sharara salwar kameez
that has become very popular among Indian women. The only difference between sharara and sharara suits is that the flare of the lower part is minimized to give the sharara an appearance similar to that of a shalwar. The legs of sharara suits are not very wide but a little wider than a traditional salwar. They are worn with kurtas and dupattas like other types of salwar kameez. They can be embellished with heavy hand works or can be made with simple fabrics and lighter embellishments for wearing at less formal parties.