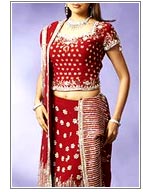 On the wedding day, the Indian bride wants to look best when all eyes are set on her. The bridal dress is bought with a lot of care. For a bride, her bridal dress is her topmost priority.
In different parts of India, brides wear different kinds of clothes, ornaments and adornments. The bride's clothes are usually typical of the area. A Punjabi bride would wear a salwar-kameez, and a Maharashtrian bride would wear a nine-yard saree and a Rajasthani bride would wear a lehenga. Lehenga choli is also famous in Gujarati weddings. However, nowadays, not only in Rajasthan and Gujarat but also in almost all states of Central and North India, the brides are preferring to wear lehenga choli or ghagra choli.
Convenient to wear, easy to manage even if it is very heavy, colour, craft and custom made are some of the plus points that go in favour of this beautiful and gorgeous attire-it is a must in a bride's wardrobe. Infact, more than just a gorgeous outfit, the Indian bridal wear holds a lot of emphasis in the Indian tradition, as there is no greater event in an Indian family than a wedding.
Fabric
Indian bridal ghagra cholis are generally made of fabrics like silk, crepe, dupion, georgette, satin and all types of man-made fabrics which are available in range of colors, designs, thickness and styles.
Design and Colour
On the Indian subcontinent, bright colours are the highlights of bridal wear. The rich colours which are used are symbolic of festivity/fertility. Today brides prefer a contemporary look, a balance of modern with the tradition. Yet, there are brides who don't mind being more flamboyant or going for the 'mix and match look'. Metallic yarn is traditionally used on these garments.
During the actual wedding ceremony, conducted in front of the fire, the motifs and the colours of the ensemble glow.
The traditional lehenga-choli in soft pastel shades with light embroidery is an ideal outfit for the Sangeet ceremony. The bridal lehenga-cholis with their glittering mirror-work look very attractive. The blouses have elaborate mirror-work and patch-work on them and are very colorful. Sequins work and handwork is very much in demand along with beadwork. Designer Indian bridal wear are available in different styles and prices. The intricately embroidered lehenga choli gives a very elegant and sophisticated look.