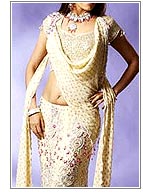 Indian market offers a mesmerizing range of lehengas that are available in contemporary as well as ethnic designs. Indian lehengas have undergone tremendous changes in designs and cuts over the years. The traditional lehenga choli or the ghagra choli is a favourite wear for Indian women. For any special occasions Indian women are seen in their best traditional dresses. Nowadays lehenga cholis have become a popular bridal wear for Indian women. Even in fashion circuit, red carpet parties, celebrities are seen adorning lehenga cholis with matching jewelleries and accessories. Lehengas have also been a popular ethnic attire in Indian beauty pageants and fashion shows. Designers like Manish Malhotra, Ritu Beri, Ritu Kumar etc. are all experimenting with the styles, cuts, fabrics of lehengas. The bridal lehengas or the wedding lehengas are all becoming more and more fashionable these days.
Indian Lehengas Choli Designs
Indian lehengas cholis designs can be divided into the following categories: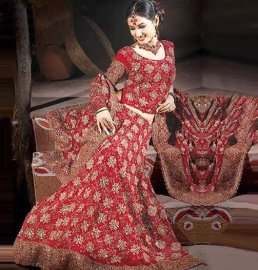 Today the market is flooded with stylish, trendy classic designer lehenga cholis, Indian bridal lehenga cholis, embroidered lehengas. Created with good quality fabrics like silk, cotton, crepe, georgette, Indian lehengas are a grand mixture of trend and style with sequins, zardozi, jari work and multicolor resham. You will get a wide range of Lehengas for Indian women in an extensive collection of styles and patterns.